VietNamNet Bridge – The fourth industrial revolution is expected to offer opportunities to radically change the quality of healthcare services in HCM City.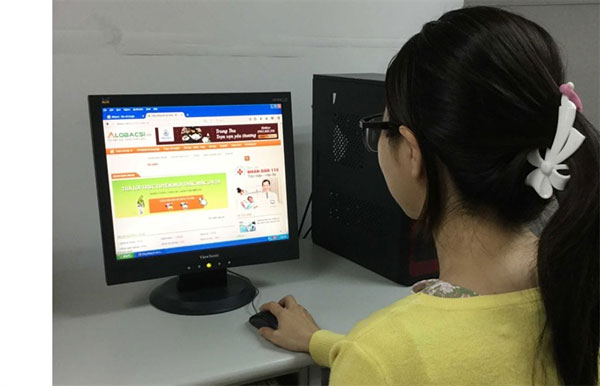 Online health examinations provided on ALOBACSI.vn, which lists many qualified doctors at hospitals in the city who can offer counselling via phone, Facebook, or Zalo. 
Dr Le Truong Giang, chairman of the HCM City Public Health Association, told Viet Nam News that such services "would guide people to self care and health monitoring and provide tele-health via counselling from doctors."
Such services would help change the mindset of "sick care into wellness care" in order to improve the quality of life, Giang said.
Viet Nam is among the countries with the fastest aging population rate, which is expected to increase incidences of chronic non-communicable diseases.
"This will lead to overcrowding of patients," he said.
"When a patient, especially the elderly, visits the hospital, they usually are accompanied by three or four family members, leading to overcrowding," Giang said.
"This leads to longer waiting times for appointments, tests and purchase of medicine at hospital drugstores," he added.
The country's Ministry of Health should encourage providing further health care via technologies which connect doctors and patients online, he said.
Giang said that people could access trusted websites such as ALOBACSI.vn or the HCM City Public Health Association's to read about information about diseases.
ALOBACSI.vn, for instance, also has links to many qualified doctors at hospitals in the city who can provide counselling via phone, Facebook, and Zalo.
Vạn Khang SOS Company is co-operating with emergency aid centres and hospitals throughout the city to provide emergency aid and treatment at home.
The public can also download the free VK_SOS or VKHS app on their smartphone. If they are involved in an accident or have health problems and need emergency aid, they can use the application.
Their information is then sent to the company, which contacts the nearest emergency aid centre to provide services.
When people need treatment, blood tests or other services at their home, they can use the application. Doctors, nurses or technicians located near the patient can visit the home.
The VKHS application can help store patient's health records, including tests, in the cloud, which is seen as a crucial technological trend during the 4.0 industrial revolution.
Giang said that the rapid advancement of wireless communication and semiconductor technologies would lead to a wireless body area network which includes sensors designed for continuous health monitoring of a patients without any constraints on normal daily life activities.
The sensors are placed inside human body or clothes.
Speaking at a conference on health care services outside hospitals held on Sept 24, Dr Nguyen Thanh Hiep, deputy rector of Pham Ngoc Thach University of Medicine, said that the Government and Ministry of Health should have more policies on development of healthcare services based on technology.
"Family doctors, also known as general practitioners or primary care physicians, will be the main source for healthcare services based on technologies outside hospitals," Hiep said.
Giang said that health insurance should shift from covering the basic health service package in order to create facilities for insured patients using healthcare services outside hospitals.
Currently, health insurance funds only cover treatment at hospitals, he added.
Data security of patients using healthcare services based on technologies should be improved, he said, adding that big data is needed and that databases of hospitals in the country should be connected.
VNS