After 28 years working in the railway sector Pham Hong Son, based in Hai Duong Province, 57km east of Hanoi, decided to quit his job last July, aged 48.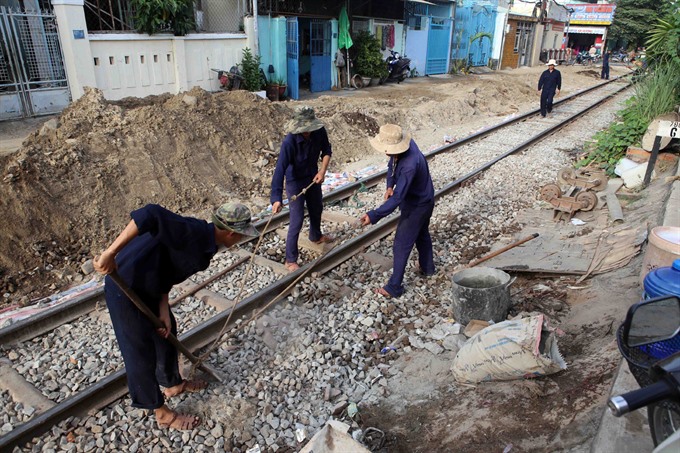 Workers fix a railway area that often gets flooded in the central Da Nang City's Thanh Khe District.
When he was young, Sơn was pleased to have a job that paid much better than the farming work most of his friends did. But now, with arthritis in his hands and back and a salary that has not improved in the last twenty years, he's had enough.
"I was at war with myself, trying to reach the decision," he said. "My father is struggling with stomach cancer. It now all falls on my wife to provide for the family."
Upon resigning, he received a VNĐ40 million (US$1,760) severance package and unemployment benefits of VNĐ3 million ($132) per month for 12 months.
Railway workers retiring has become a severe problem for Việt Nam's railway sector in recent years, Tien Phong (Vanguard) newspaper reported. About 480 railway workers have quit their jobs at the Viet Nam Railway Corporation – the State-owned operator of the country's railway system – since the beginning of 2016, resulting in the company paying VNĐ30 billion ($1.32 million) in unemployment benefits.
Low salary and dangerous working conditions are the major reasons for retirements. Pham Hong Thu, a railway level crossing guard in Hanoi with 25 years experience, said he was "lucky to still be alive".
"During our night shifts, youngsters high on drugs often yell at us, demand we lift up the barriers and threaten to stab us if we don't," he said.
Two people often work on the same shift, each on one side of the railway. "If one of us gets stabbed, the other wouldn't know until the train has passed. And it's not like they can come to the rescue even if they do know," Thu added.
Thu said he and his coworkers had to leave the barriers and run for their lives on countless occasions. "Sometimes we got beaten nearly to death when we didn't run fast enough," he said.
With his wife working the same job, VNĐ7 million ($308) is the couple's total monthly income. "His salary isn't enough to cover tuition fees for our two children," said Nguyen Thi Lan, Thu's wife. "We have to scrimp and save every month."
Staff shortage
With dozens of workers quitting at the Hai Ha Railway Company JSC based in Hanoi, and the Phu Khanh Railway JSC based in the central Khanh Hoa Province since the beginning of 2016, the two companies are severely understaffed.
"We are mobilising staff from other localities to the capital city to fill in for those that quit, but it's just a temporary solution," said Le Huu Hung, chairman of the Hai Ha Railway Company JSC.
The company is recruiting more staff and will offer the railway level crossing guard jobs to any candidates that qualify, but "we haven't found any," he added.
Phu Khaánh Railway JSC has similar problems. For months, the company has been struggling to reschedule staff's working shifts to ensure safety-related positions like railway level crossing guards and road patrols are covered, said director Nguyen Nhu Binh.
"We have announced our job vacancies publicly for direct recruitments and advertised them in low-income residential areas, but still couldn't fill them all," he said. "Several of those who did take the jobs, left after only a few months."
More automatic railway barriers and purchasing more equipment are the only ways to overcome the staff shortage, Bình added. "But we won't be able to do that in one day or two due to an insufficient budget," he said.
Answering Tien Phong on the matter, the Viet Nam Railway Corporation said it is trying to improve railway workers' working environment and retain employees with competitive benefits and training opportunities.
The company is developing a fair salary payment mechanism that resonates with employees' performances, plus bonuses when possible, it said.
VNS