VietNamNet Bridge – Dogs are said to be man's best friends. But what happens when the dogs or owners are not so friendly?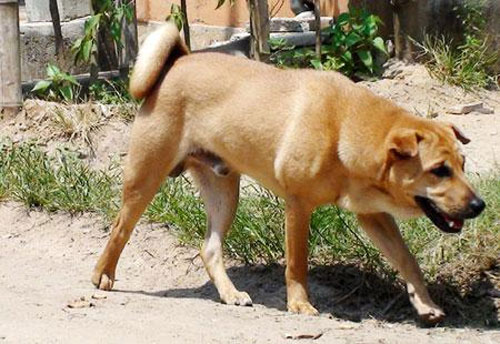 Illustrative image -- File photo
A Government decree taking effect this week requires dog owners to muzzle their dogs outdoors or face a fine of up to VND800,000 (US$35). The new edict also stipulates that dogs found wandering without their owner might be put down unless their owners are found within 72 hours.
Lam Thi Sinh, a resident of Ha Noi's Dong Da District, applauds the new rules, saying many dogs are extremely aggressive and uncontrollable. "I once saw a big dog on the way to my house. I was so afraid that I ran as fast as I could, but the dog still followed me. Suddenly the dog bit my leg," she says.
Sinh says she went to the local health care station to get vaccinated against rabies after bitten by the dog. "It happened two years ago but I still remember the incident as if it occurred yesterday," she said.
Many people not only take dogs to public places, they carry them on their motorbikes without muzzles and a leash, says Danh Thi Huyen, another Hanoian. "Sometimes, when I stop at a red light, I hold my breath while seeing a big dog on a motorbike next to me," she says.
Rabies is still a danger, even in HCM City. Earlier this year, a woman in Go Vap died of rabies after being bitten by a neighbor's dog.
According to Pham Van Dong, head of the Department of Animal Health under the Ministry of Agriculture and Rural Development, as many as 70 people die of rabies annually. Last year, over 411,000 cases of dog bites were recorded and 91 of those bitten died.
The total expenditure for treatment of such cases is estimated at VND800 billion (US$35 million) a year.
Nguyen Huyen Linh, a mother of two from Ha Noi's Ba Dinh District, thinks fines should be collected in cash and even strict punishments should be meted out to dog owner who let their pets run free without a muzzle.
"The idea of putting a muzzle on your dog is unsettling. You ask yourself, 'can he breathe, drink, or pant? Is it cruel?' As a dog lover, I used to asked myself so many times but I came to the conclusion that despite all the problems, a muzzle is very important because it not only helps ensure safety for the dog itself and the people around, it is proof that you are responsible to society."
Not everyone agrees.
"It is very necessary to muzzle dogs, such as pit bulls, Bergers or Tibetan Mastiffs, because some of them have very aggressive fighting instincts sometimes made worse by bad training," says Nguyen Thu Trang, a resident of the capital's Dong Da District. But poodles, pugs and Pekingese would never be aggressive unless provoked, she adds.
"Killing wandering dogs is not the only measure to solve the problem," says Ha Noi resident Nguyen Manh Lam from Thanh Xuan District. Three days is too short a time for dog owners to reclaim their pets, he adds. "If the dog owners are on a business trip, how can they take the dog on time?"
Lam also warns that killing abandoned or stray dogs without strict control could result in an unhygienic source for dog meat industry.
Linh agrees.
"Instead of killing dogs running around without muzzles, local officials should catch them, put them in cages, then search for the owners and ask them to pay fines. If dogs aren't reclaimed by their owners, officials should eventually transfer them to a charity pet house or adoption," she says.
As a dog lover, Linh says, she particularly condemns all actions that hurt a dog as being cruel and inhumane.
"Just think how terrible it is to see your beloved pet cruelly killed or boiled for food without any reason other than running around without a muzzle," she says.
Other countries do it differently.
In South Korea, for example, homeless animals found on the streets are rescued and transferred to some of the 368 animal shelters available, sponsored by the government or run directly by municipalities. The facilities then put up advertisements on the government website for seven days, looking for the owners.
Unless owners are found within 10 days, the shelters can put the dogs up for adoption, the Korea Herald reported.
Responding to questions relating to the claim that dogs which are not reclaimed by their owners will be sentenced to die, Doan Hong Phong, deputy head of Ha Noi Veterinary sub-department, denies the city will kill dogs if their owners are not found within 72 hours. "After 72 hours, unidentified dogs and cats found to be infected with diseases could be killed, while the rest could be transported to animal rescue centres for nursing," he told online Infonet newspaper.
I think the dogs are innocent. The government should require owners to place their information on dog tags to make it easy for authorities to contact them. Owners should also be forced to pay for the upkeep of the dog by city authorities.
Mai Hien
VNS