VietNamNet Bridge – The Dong Van Karst Plateau in the northernmost province of Ha Giang, with its mountainous terrain, rocky soil and virtually non-existent supply of underground water, suffers from severe water shortages, especially during the dry season.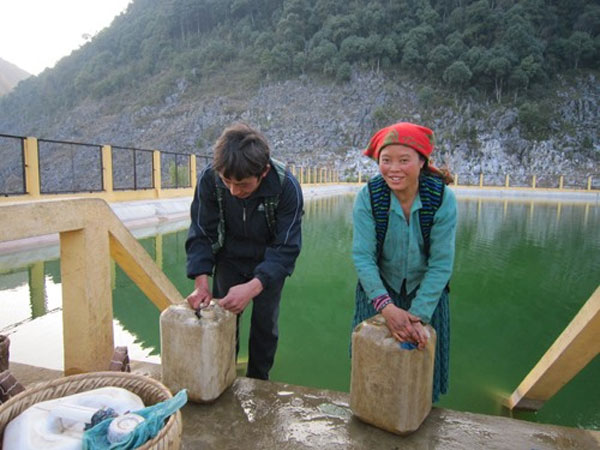 Local residents of Lung Pu Commune in Meo Vac District bring containers to fetch water from the artificial reservoir. — VNA/VNS Photo Quynh Luu
But thanks to a government project to build dozens of "hanging lakes" to store freshwater, thousands more people now have reliable access to water year-round.
The stone plateau spans 2,356sq.m across the four districts of Meo Vac, Dong Van, Yen Minh and Quan Ba. These districts, with high concentrations of ethnic minority populations, are among the six poorest districts of the province, as well as the country as a whole.
With a poverty rate of above 50 per cent, the four districts are eligible for a special government support scheme, the programme 30A – a collection of comprehensive poverty alleviation efforts effective since 2008.
With support from 30A, the so-called "hanging lakes" – freshwater reservoirs – have been built to store water collected from streams formed on the surface of the mountains during the rainy season. The first one, the 3,000cu.m Xa Phin reservoir in Xa Phin Commune of Dong Van District, was built in 2002, six years before the programme 30A. Four years later, another one was built in Ta Lung Commune of Meo Vac District with total capacity of 30,000cu.m.
Proving greatly popular with locals, the construction of these reservoirs has been included under the programme 30A budget.
In a 10-year period from 2007 to 2017, in four provinces, 115 "hanging lakes" with a total capacity of 406,000cu.m have been built, supplying clean water for 24 per cent of the population of 70,000.
According to the plan, Meo Vac District has 26 lakes, Dong Van District has 41 lakes, 26 for Yen Minh District, and 22 for Quan Ba District. The approved budget for the construction of these lakes reached VND1.3 trillion (US$57.2 million), VND252 billion ($11.08 million) short of estimated costs.
Today, 73 lakes have been officially completed, construction cost sheets for 20 further lakes have been finished, and another 22 lakes are being built or soon will be.
From 2017-20, from these 'hanging lakes,' the Ha Giang Province aims to provide access to water to 95 per cent of the population in the four districts, with each person able to use up to 40 litres a day.
VNS