VietNamNet Bridge – The lack of a database on geological conditions underground is the biggest setback for planners of the capital city's transport system.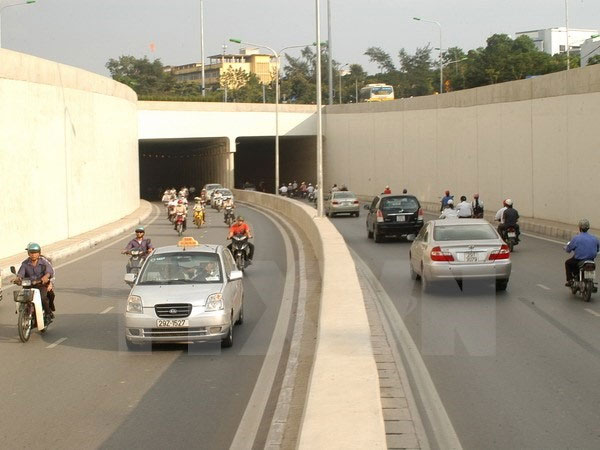 The Kim Lien-Dai Co Viet Tunnel in the capital city's Dong Da District. — VNA/VNS Photo
Taking advantage of underground space is a necessity for all growing cities. In Ha Noi, urban planners have already approved the construction of underground parking space beneath large buildings.
However, much more detailed knowledge of underground sewerage, water, soil, rock and water conditions are necessary for the development of underground metro lines and drainage systems, the Kinh te & Do thi (Economic and Urban Affairs) newspaper reported.
The lack of details on underground geology, hydrology, wells and the location of underground construction work is "the biggest obstacle" for the city's planning of underground space, said Nguyen Cong Giang, a specialist from the Nikken Sekkei Civil Engineering company in Viet Nam.
"Even management agencies lack this type of information since several underground constructions have been in use since the French colonial period," he told Kinh te & Do thi.  
"Now is the time for a comprehensive evaluation of the city's underground space to create a foundation for underground space planning," he said.
Sharing his opinion, Dao Ngoc Nghiem, vice chairman of the Ha Noi Urban Development Planning Association, said that such an evaluation should be conducted as soon as possible on both overground and underground constructions.
"The task of planning underground space is subject to pressure from several industries that depend on the city's above-ground space and level of socio-economic development, which requires close collaboration between archival agencies and construction investors and owners," he said.
An exhaustive evaluation would help the city develop policies to encourage underground constructions, he added.
"Once a coordinated mechanism on underground space has been developed, it will create a drive for practical underground space planning," he added.
A legal framework for the management of underground constructions is also much needed to be issued as soon as possible by the Ministry of Construction, he said.  
The capital city's urban transportation development plan that aims to build 10 metro lines from now until 2030 was approved by the Prime Minister last July.
The total length of the metro lines will be about 418km and cost about US$40.1 billion. Of the 418km of new lines, 76km will go underground.
Earlier this week, the Ha Noi People's Committee issued a regulation that requires parking basements be part of all new constructions in the inner city.
VNS