Vietnam is leading the world on the rate of people living with diabetes accounting for 5.4 percent of the country's population or five million people, reported Chairman of the Vietnam Association of Diabetes and Endocrinology (VADE) Professor Thai Hong Quang at a training program of diabetes held in HCM City.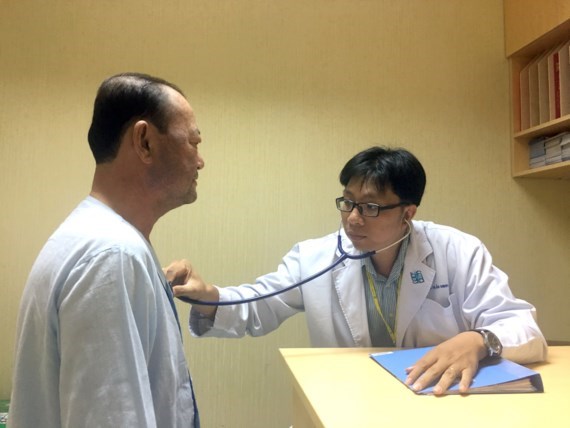 A diabetes patient is examined 
The professor said that the number of diabetes patients is increasing fast in the global, especially in developing countries.
Diabetes in Vietnam has increased more than two times in the number of patients over early 2000s and is likely to become a pandemic of the century, with increasing prevalence among young people.
According to the World Health Organization, the rate of diabetes people in the global may increase 54 percent within 20 years.
Diabetes is now a global epidemic with a serious impact on the quality of life of individuals and families. It is a chronic disease that requires life-long treatment and thus leads to high economic burden to people and society. The prevalence of diabetes is growing at alarming rates.
Additionally, around half of diabetes people have not been diagnosed and treated; therefore, they are not fully aware of their illness condition.
People with diabetes usually suffer complications such as heart disease and eye problems.
In a bid to prevent the disease and improve Vietnamese diabetes patients, American Diabetes Association and the Vietnam Association of Diabetes and Endocrinology and Sanofi organized the training program on the disease for the period 2017-2018. 
The program will support big hospitals in Vietnam to build treatment methodologies and improve quality in infirmaries.
Around 600 physicians from Bach Mai Hospital, the Endocrinology Hospital in Hanoi, Cho Ray Hospital and the Medicine University Hospital in Ho Chi Minh City will partake in the program.
SGGP