VietNamNet Bridge – Tropical Storm Sonca, the fourth to hit Viet Nam this year, is forecast to make landfall in central and northcentral Viet Nam on Tuesday night and early Wednesday morning, according to the National Hydro-meteorological Forecast Centre.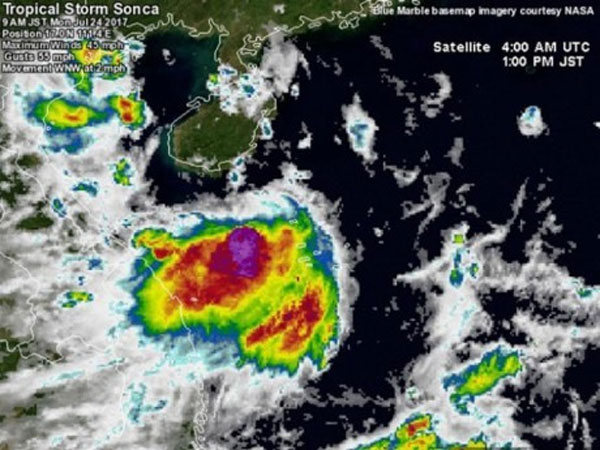 The latest image of Storm Sonca (or Storm No 4). — Source: The National Hydro-meteorological Forecast Centre
According to the centre, the storm has hardly moved in the past 24 hours. At 4am on Monday, the typhoon location was about 150km southeast of Hainan (China).
The strongest winds near the typhoon centre reach the speed of 60km-75km per hour.
In the next 24 to 48 hours, the storm is forecast to make landfall from Thanh Hoa to Quang Binh provinces before weakening into a tropical depression.
From tomorrow, coastal areas from Thanh Hoa to Quang Binh will have high waves of up to 2-3m and rough sea. These provinces will also face torrential rainfall of 100-250mm.
From Tuesday evening and night, in the Red River Delta, Hoa Binh, Son La and the north of Central Highlands, there will be moderate to heavy rain (rainfall from 50 to 150mm).
By 4am on Wednesday, the Tonkin Gulf is predicted to experience strong wind of 40-60km per hour.
Sonca Storm will also bring rains and thunderstorms in the middle and south of East Sea (including the Spratly Islands), and the sea areas from Ninh Thuan to Ca Mau Province.
From Ca Mau to Kien Giang Province, the Gulf of Thailand, there will be rain showers and scattered thunderstorms. During thunderstorms, tornadoes and gusts can occur. 
Typhoon Sonca to cause heavy rainfall in north and central regions
Typhoon Sonca, the fourth storm of this year, is forecast to make landfall in provinces from Thanh Hoa to Quang Binh in north-central Viet Nam today before weakening into a tropical low.
Hoang Duc Cuong, director of the National Centre for Hydro-meteorological Forecasting, said the storm was expected to move quickly to the northwest packing winds of 40 to 60 kph.
Rough seas and strong waves would occur in the coastal region from Thanh Hoaa to Quang Biinh provinces. Central provinces such as Quang Tri and Quang Ngai could experience heavy rainfall of between 150 and 250mm, and northern region would have rainfalls of between 50 and 150mm.
At the conference on dealing with Typhoon Sonca, Tran Quang Hoai, deputy head of the Ministry of Agriculture and Rural Development's General Irrigation Department, said all vessels, including small ones, must shelter in safe harbors. About 400 vessels were informed about the storm and were reportedly on their way to a shelter.
Hoai also said that Thanh Hoa and Quang Binh provinces would likely suffer flash floods and needed to be well-prepared to avoid losses.
Last week, tropical Storm Talas, the second storm of the season, killed at least eight people and damaged buildings and roads across northern and central regions. Weather forecasters have predicted a particularly stormy typhoon season this year, with 13-15 typhoons and tropical depressions expected to develop over the East Sea. Three to four are likely to make landfall in central Viet Nam.
Last year, 10 typhoons and tropical depressions developed over the East Sea, four of which hit the mainland. 
VNS