VietNamNet Bridge – Authorities are seeking ways to relocate hundreds of thousands of households facing the threat of landslides in the Cuu Long (Mekong) Delta provinces.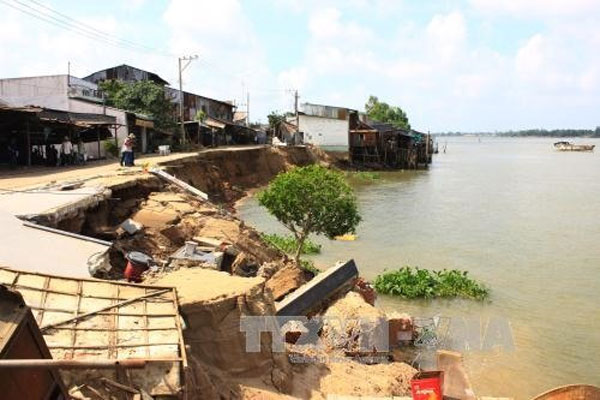 A destructive landslide occurred on April 22 in Cho Moi District in An Giang Province.
The Cuu Long (Mekong) Delta has about 500,000 households living in landslide-prone areas in urgent need of relocation.
Most of them are living in Ca Mau, Long An, An Giang and Dong Thap provinces.
The province's authorities are struggling to prevent landslides and move local residents to safe areas on a tight budget, and the residents are reluctant to move because of a lack of jobs in resettlement areas.
In April, dozens of houses in My Hoi Commune, An Giang Province fell into the Hau River after a landslide.
The authorities were quick to remove 100 households out of the dangerous area.
However, construction of the resettled areas is ongoing, and residents have had to live in pagodas and schools.
Tired of living in makeshift areas, the residents have returned to their homes, even though they know the area is dangerous.
Before 2015, Ca Mau Province approved building 35 residential blocks for about 14,000 households, according to the province's Department of Agriculture and Rural Development.
However, the province has faced high costs and difficulties in finding land. Only 1,000 households have relocated to a safe place.
By 2025, Ca Mau Province will need VND1, 200 billion (US$52.7 million) to evacuate nearly 5,700 households from landslide-prone areas to a safe place.
Ca Mau Province proposed providing aid of VND120 billion (US$5.27 million) to relocate 500 households at Vam Xoay and Rach Goc seagate in Ngoc Hien District.
Nguyen Thanh Hung, deputy chairman of Dong Thap Province's People's Committee, said the province had asked the Government to provide VND82 billion (US$ 3.6 million) from the national programme to more than 2,000 households living in erosion-prone areas along riverbanks.
The funds would also be used to build new residential areas from now to 2020.
Experts have predicted that by 2050, the Cuu Long (Mekong) Delta will evacuate around one million people because of continuing landslides, flooding and drought.
The Government and related agencies should speed up construction of residential areas in the region.
Illegal sand exploitation is contributing to landslides in the Cuu Long (Mekong) Delta.
Provinces have begun more inspections of illegal sand mining activities along the Co Chien, Tien and Hau rivers.
The authorities this year have uncovered 100 illegal sand exploitation cases and seized 100 tonnes of illegal sand.
Lam Quang Thi, deputy chairman of An Giang Province's People's Committee, said that a global positioning system (GPS) and cameras on vehicles would be installed to control and monitor sand exploitation activities. 
VNS