VietNamNet Bridge – A survey by the Viet Nam General Confederation of Labour (VGCL) conducted in March and April on 2,500 workers revealed that labourers work overtime for the extra money, not because they want to.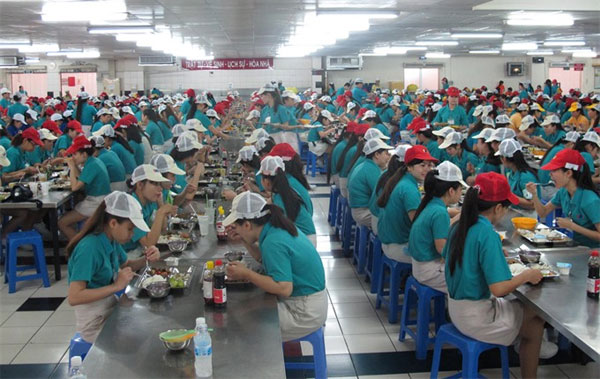 Workers at a factory in Tan Thuan Export Processing Zone at meal time. Many workers asked in a survey by the labour confederation in March and April said they wanted to work overtime because they can have the overtime meal.— Photo: VNA/VNS 
They want the extra money because their basic salary is not enough to cover their living expenses, the survey said.
Vu Minh Tien, deputy head of the Institute for Workers and Trade Unions at the VGCL, said this is revealed when comparing overtime payments between workers in the mining industry and in the electronics industry.
Miners, who have a basic salary of VND5.2 million (US$230), make an average of only VND257,000 ($11) of overtime pay.
Meanwhile, for those working in the electronics industry, whose average basic salary is only VND4.2 million ($186), average payment for overtime was VND1.3 million ($57)
"We can clearly see that at the end of the day, the total incomes of the two groups are approximately the same – about VND5.4 million for the mining group and VND5.5 million for the electronics group. But those in the electronics industry, who have lower basic salary, have to work more extra hours," Tien said.
The survey also showed that more than 48 per cent of those working in the electronics industry said they want to work overtime, while only 9 per cent of those in the mining industry wanted to.
Tien added that a salary survey by the confederation earlier this year revealed that most workers didn't want to work overtime.
"But 35 per cent of those asked said they wanted to work overtime because they can have the overtime meals," Tien said.
Nguyen Thi Oanh, 25, a worker from Bac Ninh, said after five years working at a garment factory, she now earns VND4.5 million (US$200) a month.
"I am forced to work overtime to make ends meet," Oanh said.
"I work 12 hours a day, and when I'm finished I'm always exhausted and just want to go home to sleep," she said.
Profit versus workers' health
Mai Duc Chinh, deputy chairman of the VGCL, emphasised that many studies have proved that working too many extra hours seriously affects workers' health and their productivity.
"They can become fatigued and lose concentration, resulting in lower productivity and working quality. More seriously, working too many extra hours are more prone to heart diseases, headaches and bone diseases," Chinh said.
He mentioned female worker in the aquaculture processing industry who have to stand for their entire shift.
"When they begin working, their veins are as small as the top of a chopstick. When they finish their shift, their veins are as big as a finger. There are many female workers who have to cut off their boots after work to take them off," he said.
Chinh said many enterprises proritise profits and increase overtime. Along with this, substandard working conditions contribute to negative impacts on workers' health.
"Many companies do not invest in modern and advanced technology to improve productivity but continue making labourers work overtime to meet their deadlines," he said.
In draft revisions to the 2012 Labour Code, the Ministry of Labour, Invalid and Social Affairs proposed that Vietnamese employees overtime be capped at 400 hours per year.
The latest proposal came at the request of many enterprises who've argued for several years that more overtime is needed to improve production efficiency, increase workers' incomes and raise the competitiveness of the Vietnamese labour market.
The current limit is 200 extra hours per year, per worker. In some areas like textiles and garments, leather, aquaculture processing, telecommunications, water and power supplies, overtime is capped at 300 hours per year.
VNS