VietNamNet Bridge – In a move to sustain its sweeping "sidewalk clean-up" campaign, the capital city's leader said the head of each local division will be held accountable if public space violations reoccur.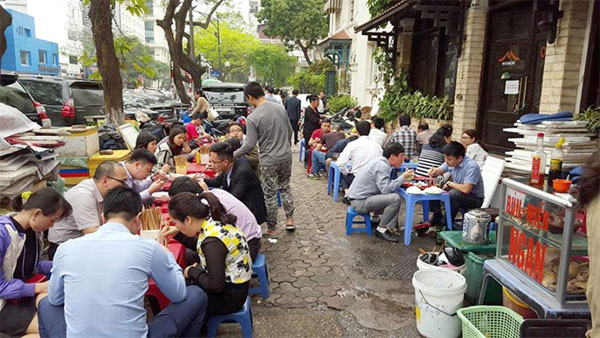 A food stall sprawls on the pavement of Ly Thuong Kiet Street - one of the main street in the Ha Noi's commercial district of Hoan Kiem. Similar violation of public space are targeted in the sidewalk cleanup campaign which has gone on for three months in large cities of Viet Nam. — Photo: VNS
The campaign, which originated in HCM City, is aimed at "reclaiming" sidewalks for their rightful users – pedestrians – from various parties encroaching upon public space for different purposes -- from parking of vehicles to exhibition of goods as well as one of Viet Nam's charm - street food stalls.
Hoang Trung Hai, secretary of Ha Noi's Party Committee, in a working session held yesterday with Ha Noi's National Assembly delegates, said after three months, the maintenance of public order and prevention of sidewalk encroachment "have not been as forceful as expected."
Hai said five working groups will be established and sent to every district in the city to handle violations and monitor the commitment of local officials. He warned that "strict disciplinary measures will be applied" should the working groups find a lack of oversight on the part of the officials, adding that, "this is a necessary step to ensure local officials carry out their responsibility dutifully."
The municipal People's Committee said that, so far, the sidewalk reclamation campaign has involved the engagement of a total of 22,700 public servants. Some 111,000 "open letters" were sent out, resulting in thousands of households signing a commitment to not violate public space.
However, the municipal authorities also admitted that at certain areas, local governments carried out "the restoration of public order" rather "hastily and recklessly," evidenced by the breaking up of household ramps that protrude onto the pavements, the questionable felling of trees, or the parking boundary markers that do not provide sufficient parking space, among others, which were counter-productive and led to public ire.
Meanwhile, on the same day, Ha Anh Tuan, head of urban management of Dong Da District – one of the main districts of Ha Noi – said the district has set up a hotline to receive public reports on any sidewalk encroachment. Tuan also said the district is mulling the installation of a camera system in its jurisdiction to monitor the sidewalks.
Pham Tuan Long, deputy head of the Hoan Kiem District People's Committee, told online newspaper VnExpress that around the Sword Lake – one of the city's main tourist attractions – street vendors continue to loiter, "but those are just exceptions, not due to lax oversight."
Households in these two districts have received support from the district authorities to switch jobs or to relocate their businesses to organised localities (the walking streets or established markets).
In the future, city authorities said they would establish market areas for street vendors and other sidewalk vendors to operate. However, "it takes time to find a suitable location," and in the meantime, street vendors have been urged to voluntarily turn to other jobs.
VNS