Approximately 12 million Vietnamese adults, or about one of every 5 people, suffer from high blood pressure, said Deputy Director of the General Department of Preventive Medicine Truong Dinh Bac on April 25.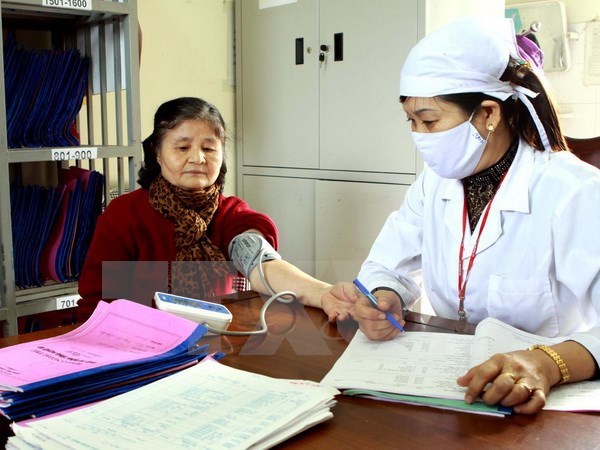 A woman receives blood pressure check
He shared the information during the workshop on "Hypertension and cardiovascular disease prevention and management: Technical updates on best practices" in Hanoi.
Of the figure, about 60 percent do not know they have it; more than 80 percent are not treated, he said, adding 79 percent of them face a cardiovascular risk but have not provided with counselling and lack preventive management.
He noted hypertension is the leading cause of stroke and heart attack which lead to death, paralysis and other disabilities and daily living problems.
The number of people with high blood pressure in Vietnam has rapidly grown as a consequence of unhealthy diet, not enough exercises and consumption of tobacco and alcohol.
In 2015, the Prime Minister approved the national strategy on preventing non-communicable diseases, including heart diseases, from 2015-2025. 
The strategy does not only outline measures to reduce above factors but also suggests developing a system of preventive medicine and healthcare that provide preventive services for the early detection of the diseases. 
The system will also offer regular health checks and help change high-risk behaviour.
Vietnam has started providing preventive healthcare services for people with high blood pressure, diabetes and other non-communicable diseases at communal medical stations and in community-based settings.
In the 2011-2015 period, services for hypertension screening and management was implemented in nearly 1,200 communes and wards across the country, benefiting more than 2 million people aged over 40.
VNA