VietNamNet Bridge – Vietnamese women should be given more say in urban planning and nation-building processes, female experts and businesswomen said at a workshop on Tuesday.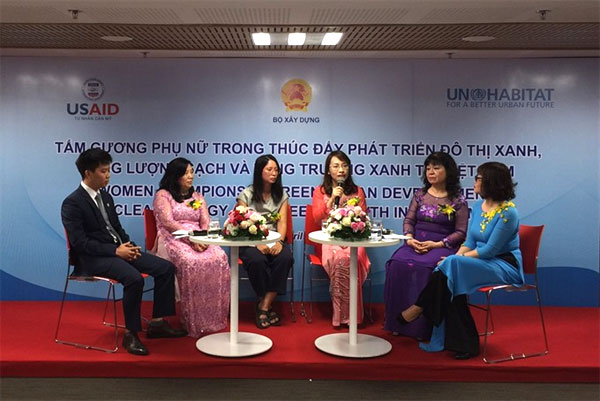 An exclusively female panel discussed Viet Nam's urban planning and green growth initiatives in Ha Noi on Tuesday. — VNS Photo
The workshop was jointly organised by the Ministry of Construction, US Agency for International Development (USAID) and UN-Habitat in Ha Noi – a UN body with a mission to promote sustainable and inclusive city development around the world.
The workshop focused on the role of Vietnamese women and the active part they are playing in promoting green and sustainable growth, especially in major cities across the country.
"Lowering carbon emissions have been the focus of Government policies and the green growth movement has taken big leaps in recent years in the construction sector," said Nguyen Cong Thinh, deputy head of the Science and Technology Department under the Ministry of Construction.
Do Duc Truong, a representative of the USAID Vietnam Clean Energy Programme, said: "A livable city must aim to reduce air pollution and waste. In a larger context, this should also be an important goal in any country's nation-building effort."
Nguyen Thi Minh Phuong, vice president of Vietnam Association for Building Material, said the country's construction sector has moved leaps and bounds with its green growth strategies in the last decade, coming up with a detailed road map for reducing carbon emissions.
However, she believed that there was still much work to do, especially in raising public awareness of sustainable development and green growth strategies, and the use of green technology in making construction materials.
She stressed the tremendous green growth benefits that Viet Nam would gain as one of the countries most severely affected by climate change. Green growth would also help fight poverty in the country, she said. 
Chu Kim Duc, founder and director of Think Playgrounds – a social enterprise devoted to building more playgrounds for city children – said urban planning should be more inclusive.
She said her organisation was established based on the lack of playgrounds for city children, but grew into the realisation that playgrounds were spaces where children could be encouraged "to imagine and explore different possibilities, to think out of the box".
Besides adding to the 40 or so playgrounds they have built across the country, the organisation also aims to direct policymakers' attention to children in the process of urban planning, she said.
The exclusively female panel also shared with the audience their everyday struggle to balance work with family life in the pursuit of their careers.
Stressing the contribution made by Vietnamese women and their increasingly important role in social and economic activities, director of UN-Habitat Vietnam, Nguyen Quang, said: "More than any other (country) in the region, Vietnamese women are taking the lead in political, social and economic movements. It is imperative that they have more voice in the process of urban planning and national building."
VNS