Customs officers in the northern port city of Hai Phong on March 21 seized a container suspected of containing Khat leaves.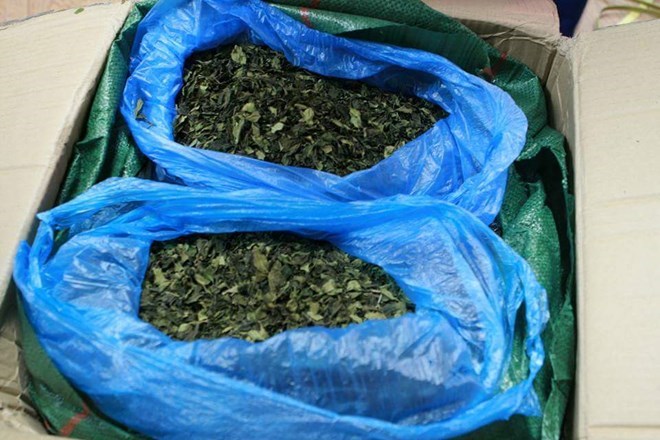 Khat leaves contain Cathinone, an amphetamine-like stimulant, which is said to cause strong euphoria and is 500-fold more dangerous than normal drugs.
The initial check showed goods in the container are dried herbal packed in 353 carton boxes and weigh around 2.8 tonnes. The herbal were initially defined as by the Ministry of Public Security's Institute of Criminal Science as Khat leaves that are listed as prohibited drugs.
In July 2016, the Hai Phong Department of Customs launched an investigation into the trafficking of drugs from foreign countries to the Hai Phong port. A month later, local customs officers discovered a suspected shipment coded "The Vert" imported from an African country. The recipient written on the waybill is a Vietnamese company, which specialises in import and re-export business.
The Hai Phong Department of Customs coordinated with the Investigation Bureau of the General Department of Customs and the Drug Crime Investigation Office (PC47) of the Hai Phong Police to seize the container. But, the company refused to receive the shipment.
On March 20, the Hai Phong Department of Customs also examined a suspected shipment and detected Shisha inside. Shisha is a kind of goods subject to close management by state agencies and restricted for importing.
Both cases are under further investigation.
VNA