VietNamNet Bridge – Pham Thi Cuc, who lives in Hai Ninh Commune in the central province of Quang Binh's Quang Ninh District, had hoped that her life could change if her husband worked as a guest worker overseas.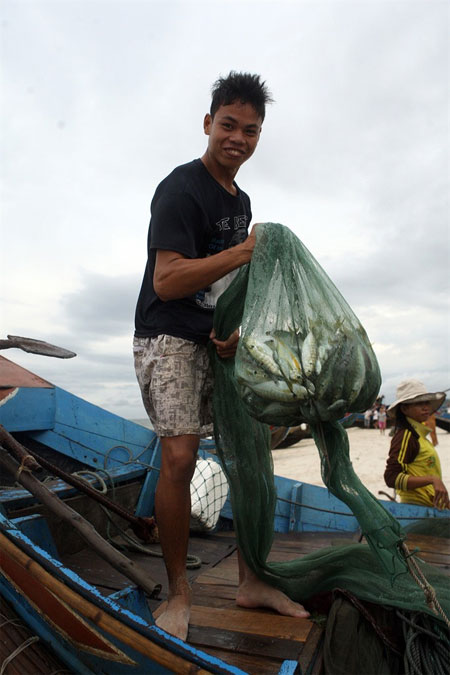 Facing difficulties after an environmental incident caused by Formosa Ha Tinh Steel, many fishermen in the central province of Quang Binh want to change their lives by working as guest workers overseas. — Photo: VNA/VNS 
So she decided to take the opportunity when a broker named Thong from Quang Tho Ward in Ba Don Town came to the area and told local residents that they could get good salaries while working abroad.
Cuc did everything, from selling valuable assets to mortgaging her house for VND200 million (US$8,760), the amount of money that the brokers demanded. Then she discovered that the brokers had disappeared a day before her husband was due to depart.
Five other families from Hai Ninh Commune were also cheated by the same trick, she said.
 The total amount of money that these scammers took from them is estimated at over VND1 billion ($43,800).
"They [the brokers] cheated us. They told local residents like me that they could help them find jobs in countries such as Japan, the Republic of Korea, Australia or Taiwan, with average wages of over VND30 million," Cuc said in tears.
The scammers asked workers to hand over VND30 million ($1,300) and took them to Ha Noi to learn Korean over a month. They were then asked to transfer VND145 million ($6,300) to Nguyen Huu Son, one of Thong's accomplice.
After receiving the money from the workers, these scammers would contact them again to hand out forged visas and flight schedules.
"Only when my husband and I came to Ha Noi and were unable to contact Son by phone, did we know that we had been cheated", Cuc said.
 "We had come to the place where Son organised foreign language classes for would-be guest workers but nobody knew him," she added.
Nguyen Van Thoai, who lives in the same commune, is another victim.
He used to engage in breeding shrimp but after running up losses of VND500 million from the trade, he wanted to go to the Republic of Korea with the hope of earning more money.
Now with the money lost and his dream shattered, life was a nightmare. Back home, Thoai didn't know what to do to repay the debt.
Dozens of people are reported to have been defrauded by these scammers, according to Cuc and Thoai. These people are mainly from Bo Trach and Quang Trach districts.
The environmental pollution caused by Hung Nghiep Formosa Ha Tinh Steel is believed to be the reason for the rising demand for labour exports in the central region.
It has reduced the quantity of seafood, affecting domestic consumption as well as 362,000 labourers whose lives depend on the sea directly or indirectly. Many people choose go to foreign countries for jobs as a good chance for them to overcome difficulties.
Le Manh Son, director of Vocational School Number 9, which provides training for oversea workers said scammers often take labourers' money and give them incorrect information or flee with the money they have been handed.
Le Van Kho, Hai Ninh Commune's Party Secretary said, as soon as they were informed of the incident, the authorities have taken steps to help local residents understand the Government's labour export policy as well as warning them about possible tricks.
He said the commune would act as a bridge connecting authorised agencies and local residents relating to overseas labour. 
VNS