Taking a deep breath and calming down before responding to someone or something is good advice, and it has become ubiquitous advice of late.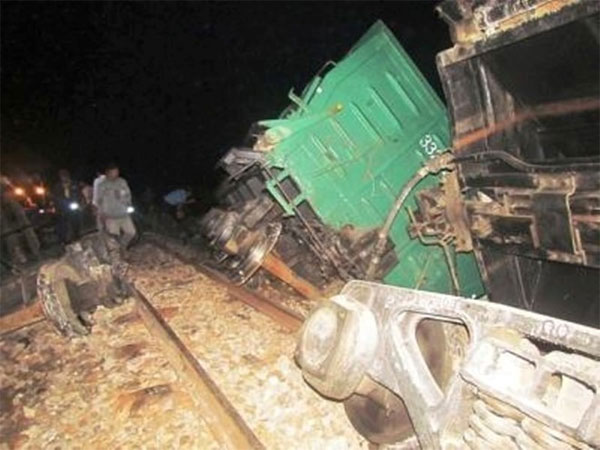 Illustrative image -- Photo zing.vn
But several deep breaths later, one feels like screaming "Not Again", after the latest deadly train accident that has left three dead, several injured and, I guess, many more scarred for life.
Last Monday, a North-South express train collided with a rock-laden truck at an unmanned railway level crossing in the central province of Thua Thien-Hue's Phu Loc District. The truck driver, his assistant and a train guard were killed, and traffic was disrupted for the whole day.
At the accident scene, there were terrified, agonising screams, a lot of blood splattered and property scattered everywhere. The train went off the rails and the truck was hit so hard that it stood nearly upside down.
What makes this accident reflect a serious problem is that it was the second in about two weeks and the third in 20 days.
Worse still, it happened just a fortnight after Deputy Prime Minister Truong Hoa Binh, who also heads the National Traffic Safety Committee, had issued an urgent order to relevant agencies to take all measures to boost safety at railway crossings.
If accidents happen even after a problem has been taken cognizance of and acted upon by the highest echelons in the Government, we can safely surmise that it is one that cannot be solved merely by affixing responsibilities in specific cases and issuing stricter laws.
What happened after the accident was expected. People blocked rail traffic, police registered a case and launched investigations, available details were broadcast on mass media and social networks, and comments of sympathy, sadness and anger poured in.
As far as figures go, report by traffic safety authorities showed a 60 per cent increase in the number of accidents involving the railways during 7-day Tet celebrations. They inflicted a 100 per cent increase in fatalities and 175 per cent increase in injuries over the previous Tet holiday.
But this sudden spurt in accidents goes beyond figures, too. It cuts to the heart of things, a general disdain or indifference to the law, and an apparent willing suspension of common sense.
Initial investigations are revealing the almost obvious aspects. The accident was caused by the truck driver disobeying the law at railway crossings. The crossing in question had warning signs, we learn. Worth mentioning here that some people have called the warning signs death traps. I am not sure why they've said that. Is it because the warning signs are left on all the time, or left on for far too long for drivers to take them seriously? Authorities should study this seriously, too.
If we look at this problem beyond the self-evident blame that drivers of road vehicles bear in accidents that happen at unmanned railway crossings, other aspects of the problem come to light.
Reports say that Viet Nam has a total of about 6,000 railway crossings, most of them close to residential areas and many of them having no guards, just warning signs. I am no expert, but surely this is a high number that warrants a serious restructuring effort, especially considering the fact that this number does not include many that are "spontaneously" opened by locals for their daily convenience.
Residents of Phu Loc District have said that accidents related to railways have been happening in greater frequencies in recent years.
If this is true, we can assume that Government and railway authorities have known this for some time, so subsequent inaction is another problem that needs to be addressed.
Viet Nam Railways (VNR) last October said it will act soon on a plan to install automatic level-crossings throughout the nation, but what happened next is anybody's guess. Everyone knows that this is not an easy task; there are budgetary considerations and other factors that have to be dealt with.
However, for some perspective, the baomoi.com.vn reported several months ago that VNR was preparing a plan for a North-South express railway route worth VND1,000 trillion (US$44 billion). The plan is expected to be submitted to the Government next year. Maybe a full automation of all railway crossings is part of that plan, who knows?
The report already drew responses to the effect. Experts were cited as saying the plan would make accidents at railway crossings even more serious.
Laws, by themselves, don't guarantee compliance. Effective enforcement cannot be confined to affixing responsibility and levying fines. Is there a provision in the current driving licence regime that requires applicants to show awareness of rules and modalities related to railway crossings? Is there any effort being made to impress on all drivers the responsibility to have for protecting themselves and others on the road?
In the US, for example, a defensive-driving course is not only mandatory before taking a licence test, attending the course guarantees a percentage reduction in insurance premiums.
A National Traffic Safety Committee report says railway authorities haven't considered the problem serious enough to issue instructions, carry out inspections and find solutions.
There are administrative overlaps to be considered. While the administration of railways is a federal government subject, the management of level crossings falls basically under the purview of provincial and other local administrations. It is said that neither the federal nor the provincial government is prepared to foot the bill of manning some if not all hitherto unmanned level crossings.  
The solutions are almost as self-evident as the problem: Ensure drivers of road vehicles know the rules and responsibilities well. Improve the efficacy of warning signs at railway crossings. Post guards at as many places as possible. Where the traffic is very heavy, underpasses or overhead bridges should be planned and built.
Fundamentally, to make our railway crossings safer, authorities need to tackle the "before" aspect as seriously as the "after".
Prevention is better than cure, they say. In this case, prevention should be seen as the cure.
VNS
Mai Khuyen