VietNamNet Bridge – Many provinces in the Cuu Long (Mekong) Delta are taking measures to secure freshwater for farming and household use since drought and saltwater intrusion is expected to be severe in the 2016-17 dry season.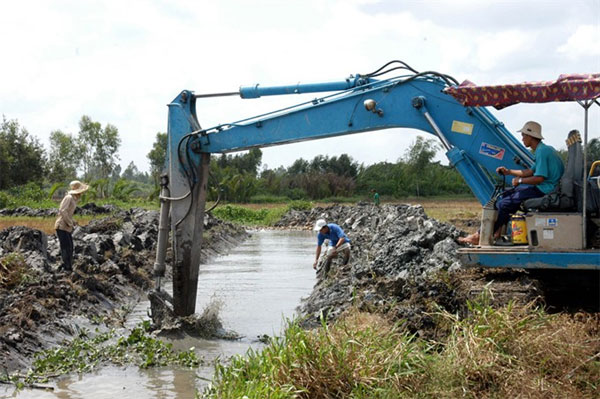 People use machines to work on a canal in Nga Nam District, Mekong Delta province of Soc Trang to improve irrigation and prevent saltwater intrusion. — VNA/VNS Photo Hoang Hai
Nguyen Thien Phap, head of the Tien Giang Province Irrigation Sub-department, said according to the Central Centre for Hydrometeorology Forecasting, the drought and saltwater encroachment into rivers would occur earlier than normal years.
Rivers are expected to have a salt content of 2 grammes per litre 55-60km inland in March and April next year, he said.
Saltwater has already flowed 20km up the Tien River in Tien Giang, according to the province's Irrigation Sub-department.
Tien Giang's three eastern districts, Go Cong Tay, Go Cong Dong and Tan Phu Dong, which are often affected by drought and saltwater, have reduced the number of annual rice crops and switched to cash crops that require less water.
Nguyen Van Hai, head of the Tan Phu Dong Agriculture and Rural Development Bureau, said the district has dredged 17 canals to store freshwater.
The province has laid a pipe network that can carry 6,000cu.m of tap water daily from Go Cong Tay to Tan Phu Dong and provided local residents with water tanks to store freshwater, he said.
In addition, it has allocated VND3 billion (US$136,000) to Tan Phu Dong to upgrade and lay new water pipes in residential areas that lack supply, he said.  
The district will set up 33 public sites and six ponds where water will be provided to the public, he said.
"I think 45,000 residents here will be supplied water."
Tien Giang dredged on an emergency basis eight main canals in Go Cong Dong District with a total length of 30km to store water for the dry season.
It is also building four temporary dams in Cai Lay District to prevent saltwater from entering the Tien River.
Le Van Hoang, director of the Long An Province Department of Agriculture and Rural Development, said his department has sought funds from the People's Committee to dredge more than 10 irrigation facilities in Can Giuoc, Can Duoc, Thu Thua and Tan Tru districts and Tan An City.
Long An has also decided to build six dams along National Highway No. 62 to keep saltwater out of the Vam Co Tay River, which provides water for irrigation to Long An and Tien Giang provinces.
In Ben Tre Province, saltwater had intruded 10km into the Binh Trung Canal in Binh Dai District by the end of October.
In Ben Tre, on November 26 Ba Tri District put into operation a plant that can desalinate 1,000cu.m of water with a salt content of 16 per cent daily.           
It can meet the demand of 1,500 households for fresh water in An Hiep Commune.
Huynh Thi Pha of An Hiep said she hoped the lives of locals would improve with the plant since they can buy freshwater at regulated prices.
During the drought and saltwater intrusion last season, her family spent more than VND2 million ($90) buying freshwater for drinking at high prices.
Authorities call for early rice crop
Authorities in the delta have urged farmers in areas susceptible to drought and saltwater intrusion to complete sowing the 2016-17 winter-spring rice early to avoid the impacts of the twin threats, which peak near the end of the crop.
Since the floods in the Mekong River have begun to recede, farmers in the delta are entering the main sowing period.
The delta, the country's rice granary, is expected to plant 1.5 million hectares in the 2016-17 winter-spring rice crop, according to the Ministry of Agriculture and Rural Development's plant cultivation department.
Based on the department's schedule, farmers began sowing the crop last month and hope to finish by January 10.
This is the year's main rice crop with its high yields and low costs compared to the others. Farmers here grow up to three crops annually.
Farmers in Dong Thap Muoi (Plain of Reeds) in Dong Thap Province have this year sowed the crop two weeks to one month early to avoid drought and saltwater, according to the Department of Agriculture and Rural Development.
Cao Van Hoa, deputy director of the Tien Giang Province Department of Agriculture and Rural Development, said coastal districts had been instructed to grow only two rice crops this year and so did not grow the autumn-winter crop.
About 4,000ha had been left fallow during autumn-winter, and so farmers have been able to sow the winter-spring crop two months early, he said.
VNS