VietNamNet Bridge – The Airports Corporation of Viet Nam (ACV) is asking residents and experts for feedback on proposed designs for a passenger terminal at Long Thanh International Airport in the southern province of Dong Nai.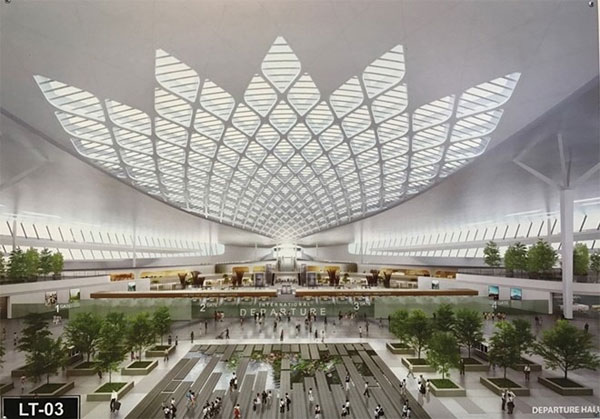 A lotus-shaped design submitted by a South Korean company is one of three designs for a passenger terminal at the planned Long Thanh International Airport in Dong Nai Province. Photo courtesy of the Airports Corporation of Viet Nam
ACV will put nine designs on display in Ha Noi, Da Nang, HCM City and Dong Nai.
The display open for public comment will take place at the Viet Nam Art and Culture Exhibition Centre in Ha Noi from November 28 to December 12, and in Da Nang from December 16 to 25. It will be held in Dong Nai from December 28 to January 11, and in HCM City from January 13 to 23.
The agency also welcomes comments at the Ministry of Transport website www.mt.gov.vn.
ACV is consulting experts at the Viet Nam Association of Architects, the Viet Nam Urban Planning and Development Association, the General Construction Association of Viet Nam, and the Viet Nam Association on Aviation Science and Technology.
ACV has organised an international contest to choose the best design for the passenger terminal. The designs are assessed based on criteria such as function, aesthetics and harmony with the surrounding natural environment.
A total of nine designs have been submitted by companies that have experience in designing major airport terminals around the world.
Of the nine designs on display, three designs have been selected by ACV, with one in the shape of a lotus flower submitted by a company from South Korea.
A design from a Vietnamese-Japanese-Singaporean joint-venture features palm-leaf details, while the other by a Japanese-French joint-venture uses bamboo furniture.
Judges have evaluated the designs, but want to seek public comment before making a final decision.
The Ministry of Transport will ask the Government to select the best design based on public feedback and assessment by the judges.
ACV will then conduct a feasibility study for the terminal design and construction and submit it to the National Assembly for approval.
Work on the first phase of Long Thanh International Airport is expected to start in 2019, with an opening in 2023.
In the first phase, scheduled to open by 2025 at the latest, the airport will have one runway and one passenger terminal, and handle 25 million passengers and 1.2 million tonnes of cargo a year.
In the second phase, the second runway and terminal will be built, which will increase the airport's annual capacity to 50 million passengers and 1.5 million tonnes of cargo.
The airport is expected to serve 100 million passengers and five million tonnes of cargo by 2050.
The project is expected to cost a total of VND336.6 trillion (US$14.85 billion), with the first phase costing VND114.5 trillion ($5.05 billion).
VNS