The number of private vehicles registered in HCMC has shot up 56% from 2010 to 7.7 million as of September this year, excluding those vehicles registered in other provinces but used in the city.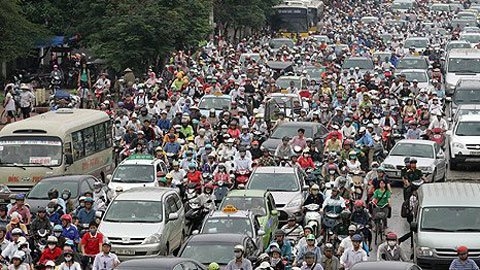 Of the volume, 7.1 million are motorcycles and the rest 608,000 automobiles, the city government said in a report sent to the Vietnam Fatherland Front Committee last week.
The significant increase of private vehicles is a key reason behind traffic congestion on many roads leading to the downtown area, in Tan Son Nhat International Airport area and around ports, especially at rush hour, according to the report.
Bus and taxi services now meet only 9.3% of commuting demand in the city while the city's first metro line is still under construction.
Other reasons for the city's worsening traffic situation are mismatches in urban planning and development, the lack of effective policies to limit private vehicle ownership, insufficient infrastructure, poor public bus services, and the lack of urban train services.
The city government predicted the situation would get worse in coming years as the population and the ownership of private vehicles will keep rising and the city has no breakthrough policy to lure investments in traffic infrastructure development projects.
In 2016-2020, the city will focus on 160 major traffic infrastructure projects worth an estimated VND313.6 trillion (US$14 billion) to reduce traffic congestion. They include ring roads No.2 and No.3, elevated roads No.1 and No.5, metro lines No.1 and No.2, and parking lots.
The city will also connect its roads with those in neighboring provinces in the southern key economic zone, and boost the development of public transit, especially train and bus rapid transit (BRT).
SGT