VietNamNet Bridge – The Department of Natural Resources and Environment of Lam Dong province has proposed auctioning a precious stone weighing 20 tons, which was recently discovered in Tan Loc commune in Bao Lam district.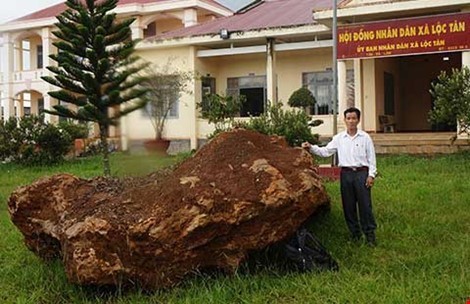 The department official Huynh Thien Tinh said the rock was tested by experts, who said that it wasca semiprecious stone named chalcedony.
"In accordance with current regulations, chalcedony is a kind of semiprecious stone so it will be auctioned. Earnings from the stone will be raised for the state budget," said Tinh.
The official said chalcedony is available along Highway 20 from Bao Loc city to Da Lat. This is a type of feng shui stone so the price depends on the buyer.
This rock was discovered by a farmer in Tan Loc commune in his coffee garden. It is 4 meters in length, 2 m wide and weighs about 20 tons, with beautiful colors. A local man named Pham Van Chinh bought the rock for VND100 million (nearly $5,000).
Chinh then paid VND350 million ($13,000) to hire workers to guard and dig up the stone for nearly a month. However, as Chinh did not inform the local authorities of the excavation, Loc Tan commune authorities held the rock.
Chinh explained that he bought the rock for feng sui and he did not know that he had to inform the authorities. Chinh asked about paying taxes for the rock but the local authorities did not agree.
In late September, the Department of Natural Resources and Environment of Lam Dong province sent samples of the rock for testing in HCM City.
Chalcedony is a cryptocrystalline form of silica, composed of very fine intergrowths of quartz and moganite. These are both silica minerals, but they differ in that quartz has a trigonal crystal structure, while moganite is monoclinic. 
Chalcedony has a waxy luster, and may be semitransparent or translucent. It can assume a wide range of colors, but those most commonly seen are white to gray, grayish-blue or a shade of brown ranging from pale to nearly black. 
Chalcedony occurs in a wide range of varieties. Many semi-precious gemstones are in fact forms of chalcedony.
Linh Nhat