VietNamNet Bridge – Residents of Thu Duong Village have to "score a century" in rice noodles every day.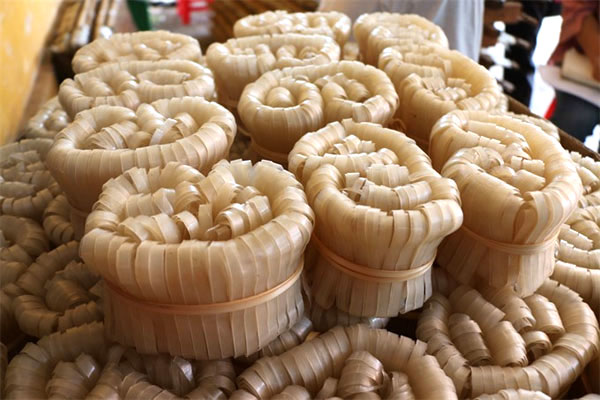 Naturally safe: No preservatives are used to make My Chu and this product has received a food safety certificate from Bac Giang Province. – VNS Photos: Doan Tung
So they get up very early, no matter what the weather, and start working at 4.30am to prepare about 100 kilograms of a special rice noodle that the village has become famous for.
The small village, about 60km away from Ha Noi in Bac Giang Province, began making the My Chu (chu rice noodles) about six decades ago.
Their skilled hands and the desire to preserve the traditional vocation has made My Chu a popular product in the province and beyond.
The arresting sight of numerous white rice noodle sheets being sundried on wooden panels greets those arriving in Thu Duong. Learning its history makes the place even more interesting.
This rice noodle gets its name from the Chu Market, where a man called Ca Tong began selling them all those years ago. A native of neighboring Hai Duong Province, Ca Tong was brought to Bac Giang by a Chinese man who'd adopted him when he was very small.
It was his foster father who taught Ca Tong the basic steps of making rice noodles, said 38-year-old Tran Duc Phuoc, Tong's great grandson.
Because it had a distinct taste and was only sold in that market, people began calling it My Chu, a name that has stuck to this day.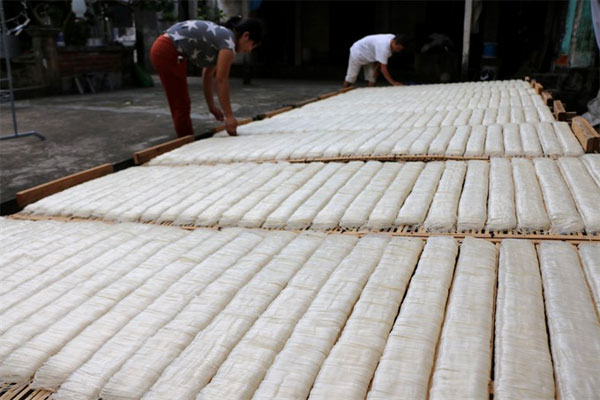 Solar power: Rice noodles are placed to dry under the sun.
Another thing that the villages have stuck to is the old way of making rice noodles, with almost all steps done by hand.
The first step is to wash and remove all the dirt from the rice. It is then softened by soaking in water for up to three hours and later transferred to a grinder after adding fresh water.
"Chu noodles are made purely with rice, a bit of water and oil, so choosing the right rice variety is very important," said Nguyen Thi Sam, a 41-year-old woman whose family has been doing it for generations.
Phuoc nodded in agreement. "In the old days, they used the bao thai hong variety, which was grown in the Chu hill area. This variety of rice was very famous for its unique aroma, texture and stickiness, and perfectly suited to making good noodles," he said.
Nowadays, as production of bao thai hong rice declines and the number of households making the rice noodles increase, it has become difficult to use the original rice. The villages now use the "203" variety that can be found locally or in the provinces of Thai Binh and Nam Dinh.
"The quality of rice we use now must be as good as bao thai hong rice," Phuoc said, adding, "using good quality rice will not only make the noodles tastier and chewier, but will also increase the quantity."
By late afternoon the rice has become white flour and the villagers leave it until next morning, when the water stands clear from the rice.
Sam stressed that "besides rice, the water used is an important factor that decides the quality of My Chu".
"We are so grateful for the natural water sources in the region. From the very beginning we have used well water, which is fresh, free from chemicals and has a lightly sweet taste," she said.
After removing the water from the rice flour mixture, the flour has to be spread out with meticulous care to avoid any lumps.
In the past, a ladle was used to spread the flour on a cloth stretched over boiling water, but this step has been taken over by a machine that creates the rice noodle sheets.
Flat rice sheets are then spread out on mats to dry in the sun until they are totally dry and transparent.
To make it easier to cut the noodle sheets into smaller strips, the rice sheets are softened with a bit of warm water and oil.
"Previously, lard was used at this stage, but it has been replaced with vegetable oil because it is more popular and convenient," Phuoc said.
Once the noodles are cut, they are dried in the sun again before being packed.
Since it can be used for many different dishes, the strips are of various sizes.
"This noodle is made purely from rice and is free of any preservatives, so it is more nutritious and healthy than other instant noodles," said Nam.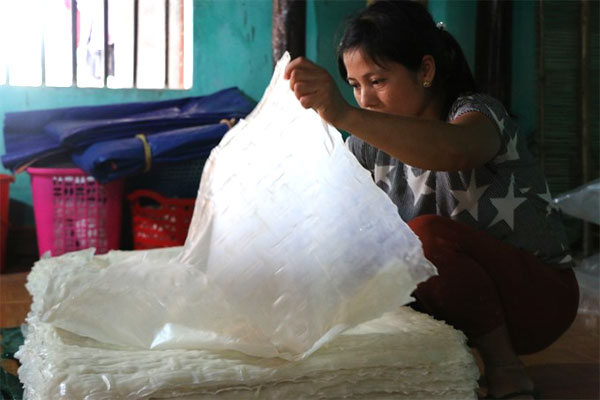 Hand made: Almost all the steps of making rice noodles are still done by hand in Thu Duong Village, Bac Giang Province. 
My Chu has been granted a safe food certificate by the Bac Giang's Department of Industry and Trade. It was recognised as a "symbolic industrial product" of the northern region in 2014, and as one of the most trusted products nationwide in 2013.
Crossing borders
My Chu's fame has since spread beyond the country's borders, with exports to several overseas markets including South Korea, mainland China, Taiwan and the UK.
"It is a pity that we sometimes fail to get deals with big customers because there is not enough sunlight to dry the noodles," said Nguyen Van Nam, director of the Rice Noodle Co-operative.
Inclement weather is not just a major challenge standing in the way of the noodle makers expanding their markets, it can also hurt them.
"At times, some households have had to dispose of several dozen tonnes of noodles because they could not dry them," said Nam.
The village has proposed to provincial authorities that they help import modern drying equipment so that villagers could make noodles on rainy days, too, increasing productivity as well as income.
Out of 333 households in the village, 287 are engaged in making rice noodles. Each household makes an average of nearly 100kg of noodles every sunny day.
"The My Chu making tradition has played an important role in reducing poverty in the village," Nam said.
A villager can earn about VND5million (US$220) on average a month, and the villagers are hoping to increase this to VND6million ($270) next year.
With more than a hint of pride, Nam added: "As villagers have a stable job making rice noodles, they've refused to work in the area's industrial zones."
VNS
Hong Van