VietNamNet Bridge – Flooding in Saigon is the result of rapid urbanization and an increase of population, in addition to unplanned construction activities.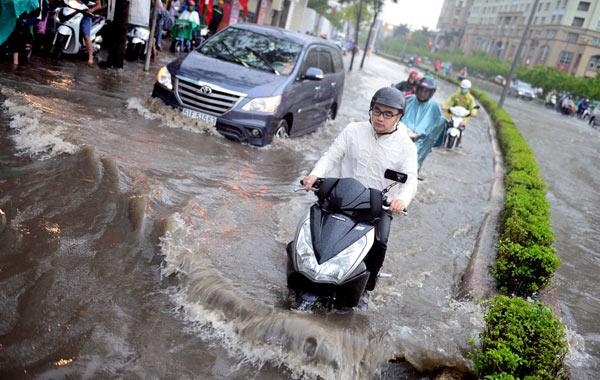 HCM City today is the merger of three small urban areas - Saigon, Cho Lon and Gia Dinh where their center used to be natural or artificial high mounds. The boundaries of these areas were vast swamps, canals, or low-lying paddy fields.
Along with urbanization and migration of war refugees before 1975, the gaps between Saigon, Cho Lon and Gia Dinh were gradually filled with roads like Tran Hung Dao and Dien Bien Phu or temporary roads and slums near the canals. 
As the results of population growth, unplanned construction works have gradually encroached on open-air culverts. Meanwhile, the underground drainage system has not been enlarged. This is the root cause of flooding in Saigon.
Flooding in the city has become serious since the 1990s, along with the rapid pace of urbanization.
Floods still occur as there is no ground to absorb the water and the existing drainage system has not been renovated at the same pace as urbanization.
Many sunken areas have subsided as the silt foundation was suppressed by millions of tons of reinforced concrete, brick, mortar, and stone. In Thao Dien, District 2, in the 10 years from 1997 to 2007, subsidence was recorded of about 5cm - 7cm per year in some locations. Since then, flooding caused by high tides has occurred in the city's low-lying areas.
That's not to mention climate change, global warming, and sea level rise, which causes the tides to rise year after year.
Based on the characteristics of the formation and development of Saigon, anti-flood measures are suggested as follows: Build embankments, dykes and reservoirs for each low-lying area; and build a comprehensive system of main sewers throughout the city, with a vision to half a century later.  
Le Ha