Health experts have raised more concerns over the negative health impacts of alcohol after seeing an increased drinking rate among the Vietnamese population and an increased volume of alcohol consumed in the country.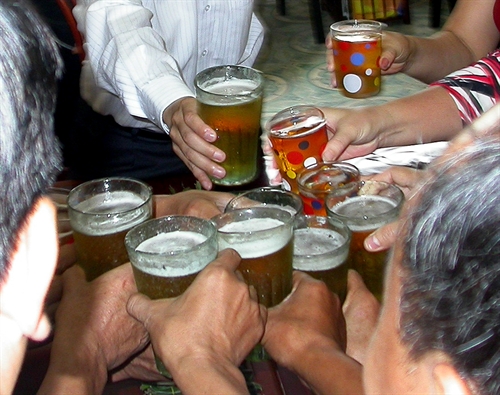 The latest report, produced by the VN Beverage Association, shows that Vietnamese people drank more than 3.4 billion litres of beer and another 342 million litres of spirits last year – a 40 per cent increase from 2010 – putting the country in the top 10 global consumers of alcohol.
Early last week, the Health Ministry revealed results of a survey on non-communicable disease (NCD) risk factors. The survey was conducted in 2015 by the ministry's Preventive Medicine Department and the World Health Organisation (WHO) on nearly 3,800 people aged between 18 and 69 in VN.
In the survey, more than 77 per cent of adult males and 11 per cent of females said they had consumed at least six units of alcohol in the past 30 days. More than 44 per cent of men and 1.2 per cent of women said that they had engaged in heavy episodic drinking.
The rate of male drinkers increased by 11 per cent while the rate of female drinkers went up 6 per cent compared to 2010 figures.
Survey findings show that 44 percent of men drank alcohol at a hazardous level, which means that within the last 30 days, there was at least one time they drank more than 180 millilitres of spirits or more than six cans of beer.
About half of all drinkers drove a vehicle within two hours of drinking.
Nguyen Phuong Nam, an expert from the WHO said one of the biggest concerns was that more young people were drinking alcohol.
The problem became more serious as the Vietnamese generally think drinking helps to build relationships, facilitate business and reduce stress, Nam said, expressing concern that up to 97 per cent of men said beer was not harmful to health.
Tran Quoc Bao, head of the Non-communicable Diseases Control Division under the Preventive Medicine Department, said that alcohol was an indirect cause for at least 30 diseases affecting many parts of body including the nervous and digestive systems. Alcohol can severely affect a foetus in the womb, and both the mental and physical development of drinkers.
Drinking alcohol also led to other risks such as unsafe sex, drink related injuries, violence and traffic accidents, Bảo said.
Vice president of HCM City Association for the Study of Liver Diseases, Le Thanh Ly, said that alcohol caused cirrhosis of the liver and liver cancer.
Up to 10 per cent of men aged from 50 to 69 in VN died of liver cancer caused by alcohol, three times higher than world's average rate, Ly said.
Nguyen Van Hiep, 33, an office worker in Hanoi said that now almost all people knew about the harm of alcohol, but few could say "No" to drinking, as it was part of social communication, business and culture.
"Drinking can make gatherings and parties more fun, speed up business deals or it implies that you are sociable and friendly to others," he said, adding that sometimes he drank reluctantly and suffered serious headaches and exhaustion after drinking.
Hiệp's wife said that she complained all the time about his drinking but nothing had changed.
"Whenever he leaves home to go drinking, I'm worried until he drives home safely. I told him many times about the long-term consequences of drinking, but he doesn't seem afraid," she said.
Doctor Pham Thi Hoang Anh, head of HealthBridge Canada in VN, a non-government organisation working in health improvement, said that it's easy now for Vietnamese youngsters to access alcohol. The country only bans advertising of drinks with an alcohol content of 15 per cent or higher.
She said policies to control alcohol consumption in VN were not strict enough given the low price of wine and beer.
"The government should consider passing the Law on Alcohol Control, the draft of which was initially planned for submission by the Ministry of Health in 2017, but has now been delayed," she said. 
VNS