VietNamNet Bridge – The next court hearing of an Agent Orange (AO) lawsuit filed by a French-Vietnamese woman against 26 US chemical companies is expected to be held in early 2017.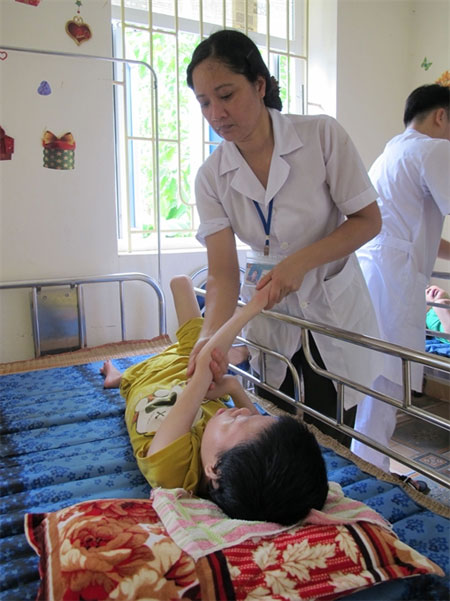 An Agent Orange victim is given care at the veteran nursing centre in Nho Quan District of northern Ninh Binh Province. — VNA/VNS Photo Ninh Duc Phuong
The information was revealed at a dialogue held in the Mekong Delta city of Can Tho yesterday (Aug 29) by the provincial Association of Agent Orange Victims.
The past six court hearings of Tran To Nga's lawsuit were held between April 2015 and July 2016.
The 73-year-old dioxin-affected Nga is suing the companies that manufactured Agent Orange, the defoliant used by the US during the war in Viet Nam. Lawyers Amelie Lefebvre and Bertrand Repold represent her.
In 2009, Nga, who contracted a number of acute diseases, appeared as a witness at the International Peoples' Tribunal of Conscience in Paris, France against the US chemical companies. The complaint and related documents were handed over to the Crown Court of Evry City in the suburbs of Paris.
Nga said at the dialogue that the lawsuit appearing in the court was an initial victory for not only her but other AO victims.
She said she had prepared evidence as well as her spirit to join the next hearing.
A similar dialogue will be held in the Mekong Delta province of Soc Trang.
Nga was a correspondent for the Liberation News Agency, which later merged with Vietnam News Agency, during the fiercest period of the war. From 1966 she lived in areas hit by the herbicide, including Cu Chi District in HCM City and along the Ho Chi Minh Trail.
She later gave birth to three children, the eldest of which died of a heart disorder, while the second inherited a blood disease from her.
Nga herself suffers from numerous diseases as a consequence of her exposure to AO, many of which have been recognised by the US government as associated with the toxic chemical.
Nga's status as an AO victim and French national have allowed the lawyers to sue the US chemical firms in France, which could end up benefiting not only Nga but also millions of Vietnamese AO victims.
Nga said she decided to file the suit not for her benefit but for other Vietnamese victims of Agent Orange.
Source: VNS