Livestock husbandry and forestry plantation have maintained good growth, but agricultural production slowed over the last six months, a senior official from the Ministry of Agriculture and Rural Development has said.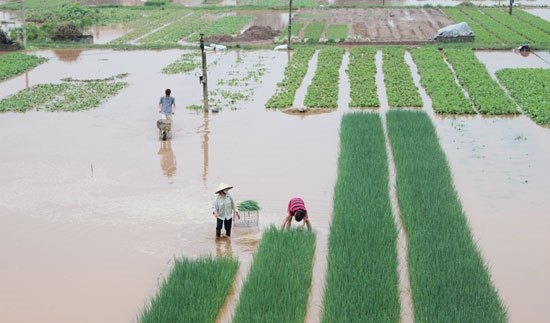 Nguyễn Thị Hồng, planning department head, said at a conference held in Hà Nội that the Gross Domestic Product for agriculture, forestry and aquaculture decreased by 0.18 per cent.
"The growth rate for the whole agricultural industry, for the first time, didn't reach the target," she said on Wednesday .
The conference was held to review activities over the first six months and map out goals for the remainder of 2016.
Minister of Agriculture and Rural Development Cao Đức Phát said agricultural production has to face two big challenges: international economic integration and climate change.
He said the agricultural sector has to take every effort to achieve results.
For the coming months' goal, the minister asked agricultural departments to carry out comprehensive measures aimed at enhancing competitive capacity and sustainable development.
Provinces must strive to recover and maintain their production growth, as well as effectively implement national programmes on building new rural areas, Phát said.
Over the last six months, agricultural-forestry production and aquaculture contended with salinity intrusion, coastal erosion (in the Mekong Delta region), prolonged drought on a large scale (in central and TâyNguyên regions), mass fish deaths in four central provinces, and a reduction in consumption.
Rice crops suffered big losses due to these natural calamities. The country only reaped about 19.4 million tonnes of rice from the winter-spring crop, marking a reduction of 1.3 million tonnes (6.4 per cent) compared to last year's harvest.
In the Mekong Delta region, the winter-spring crop's production fell 10.2 per cent from 2015.        
Both acreage and production of short-term plants reduced. Long-term industrial crops (coffee, rubber and cashew trees) were mainly grown with the use of intensive cultivation technology on previously reclaimed acreage.                      
However, according to Hồng, the agricultural sector has achieved some successes; the business environment improved, and the nation's competitive capacity, market research and trade promotion were enhanced. The ministry's agencies have boosted bilateral co-operation to expand export markets.
Exports grew in the first six months, gaining US$15.04 billion, an increase of 5.4 per cent year-on-year.
Future goals
The nation should focus on restructuring the entire agricultural sector in order to recover the growth rate, Hồng said at the conference.
The agriculture ministry is urged to direct provinces to convert rice acreage into crops such as maize, soybeans, sesame, peanuts and vegetables. These crops will provide big material sources for animals and the cattle feed-processing industry.               
The ministry also asked farmers to use high-quality seedlings and said it would help them prevent pestilent insects.
Solutions will be rolled out to tackle the consequences of drought and saltwater intrusion, increase productivity and the quality of products, and ensure food safety, especially for export products such as dragon fruit, mangos, durians, longans, rambutans, lychees, and bananas, Hồng said.
The sector would also keep a close watch on supply and demand changes in domestic and foreign markets and devise policies to expand export markets and take full advantage of the free trade agreements that Việt Nam has signed with foreign partners, she added.
VNS