Việt Nam has failed to issue a national certificate of quality for organic produce, creating obstacles for local producers pioneering in developing organic agriculture.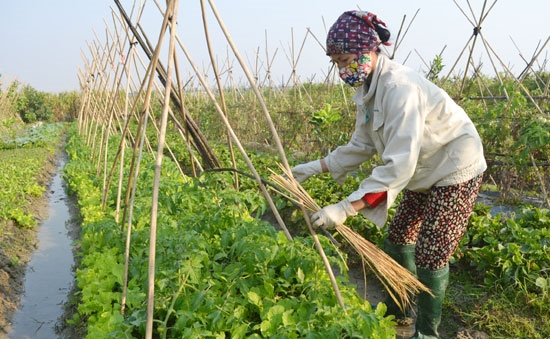 The sector is thought to have high potential due to the growing demand for safe food.
Trương Kim Hoa, owner of a 30-ha farm for organic vegetables in Thạch Thất District, said that without a national certificate, it was hard for producer to prove the quality of their organic products to customers. Many stores sell organic produces but customers have no way of knowing what is really organic and what is not.
To build customer confidence, several producers had to apply for certificates from other countries, such as Japan. Others followed a set of criteria promulgated in 2006 by the Ministry of Agriculture and Rural Development.
Hà Minh Đức, director of CleverFood Company, said adhering to the criteria was only a temporary solution.
Phạm Đồng Quảng, deputy head of Science, Technology and Environment under the Ministry of Agriculture and Rural Development, conceded that the Government still does not know how to manage organic produce in the market.
Thus, no agency was established to supervise and fine violations related to producing and trading in organic produce, he said.
Deputy Minister Trần Thanh Nam said the ministry would cooperate with the Ministry of Science and Technology and send teams to organic producers throughout the country in order to listen to their problems with a view to resolving them quickly.
The ministry also plans to issue supporting policies to encourage organic producers, he said.
Organic agriculture development, new way for Việt Nam
Professor Nguyễn Quốc Vọng from Australia-based RMIT University, said Việt Nam needs to speed up development of organic agriculture and must operate in accordance with regulations on health and environment.
The most important thing was ensuring that the country has a prestigious agency to verify the quality of organic produce and build customer confidence, he said.
With customer confidence and a trusted regulatory agency, the country would meet the demands on hygiene and safety for local consumption and export, he said.
According to the agriculture ministry's Department of Crops Production, the organic agriculture sector has export potential and foreign companies want to work with domestic producers to run organic farms in Việt Nam.
For example, Hưng Thịnh Ltd., based in southern Tây Ninh Province, recently signed a contract with a German company to build a 1,500-ha farm to breed fish and shrimp for export to Germany. A Japanese company has placed an order with a company based in the Central Highland Lâm Đồng Province's Đà Lạt City to export eight containers of long coriander each week.
VNS