The Mekong Delta suffered losses worth more than VNĐ4.7 trillion (US$215 million) due to the severe and prolonged drought and saltwater intrusion last dry season, the Southwest Region Steering Committee has reported.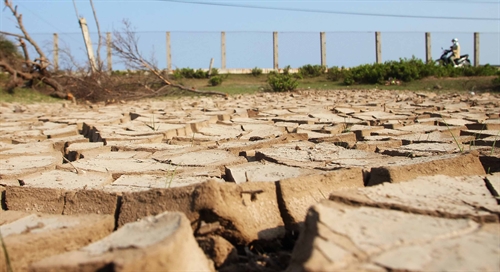 Drought in Tan Thanh Commune, Go Cong Dong District, Tien Giang Province of.
More than 221,000ha of rice, 6,500ha of vegetables, and 26,500ha of fruits and industrial trees were affected, the committee said on Tuesday.
Paddy grown on 128,205ha was completely destroyed.
The drought and saltwater intrusion also caused a freshwater shortage for 225,000 households in coastal provinces like Ben Tre, Soc Trang, and Kien Giang.
Rains have now begun in the delta and farmers are growing new vegetable crops and the autumn-winter rice crop and farming shrimp.
Harvest
It is now the peak harvest season for the summer-autumn rice, but with unusually heavy rains and winds battering paddies and affecting the quality of the grain, farmers have difficulty selling.
Le Van Xuan, who has just 1.5ha in Hau Giang Province's Vi Thuy District, said just before his crop ripened a trader had deposited money to buy on the field at VNĐ4,700 a kilogramme.
But by harvest time, after the rains had flattened his field, the price of the grain was cut to VNĐ4,000 because of poor quality, he said.
In Hau Giang, Kien Giang, Vinh Long and An Giang provinces, heavy rains and strong wings have flattened thousands of hectares of paddies.
Farmers whose fields were affected are likely to earn only around VNĐ10 million ($455) a hectare, down by nearly half compared to those whose fields were not affected, according to local agriculture departments.
Farmers have to harvest flattened fields by hand since harvesters cannot be used on them.
Traders are not keen to buy from such fields.
Nguyen Thi Kieu, Deputy Director of the Can Tho city Department of Agriculture and Rural Development, said harvest of the summer-autumn rice was expected to be finished in early July.
If their fields are flooded, farmers should pump the water out gradually to avoid flattening the crops, she said.
Farmers should acquire the practice of drying their paddy instead of selling it fresh to traders, and should not depend too much on traders, she added.
Autumn-winter rice
Farmers are set to grow only 860,000ha of rice in the autumn-winter crop, down from the original plan of sowing 900,300ha, according to the Plant Cultivation Department.
This is due to the decline in rice prices and unfavourable export conditions, according to the department.
Nguyen Dinh Bich, an expert, was quoted as saying in Saigon Giai Phong (Liberated Saigon) newspaper that global rice prices are unlikely to harden this year because Thailand plans to liquidate its stocks.
But if the autumn-winter rice area is reduced, authorities should help farmers grow other crops to sustain farmers' livelihoods, he said.
Cultivation of the autumn-winter rice has begun.
Dinh Van Sang, Deputy Chairman of Phuong Thinh Commune in Dong Thap Province's Cao Lanh District, said farmers in the commune planted more than 4,000ha.
Some of the lands are outside the protection of dykes despite warnings by local authorities.  
Nguyen Van Lam, Deputy Chairman of The Mon Commune in Can Tho City, Thoi Lai District, said: "The profit from summer-autumn rice was not high, but the commune's farmers have sown more than 1,600ha of autumn-winter rice."
"The farmers cannot leave their land untilled after harvesting the summer-autumn rice," he said.
Besides, farming cash crops or aquatic species depends on the conditions in an area and not all areas are suitable for them, according  to Lam.
Demand for cash crops and aquaculture produce is not steady either.
"Therefore, farmers continue to grow rice," he said.
VNS