VietNamNet Bridge – The Tet (Lunar New Year) holiday is traditionally a time of reunion for the Vietnamese. For the last eight years, thousands of local and foreign students from HCM City's universities have taken part in an annual campaign that helps those in need during the festive season. Van Dat joins them for a day.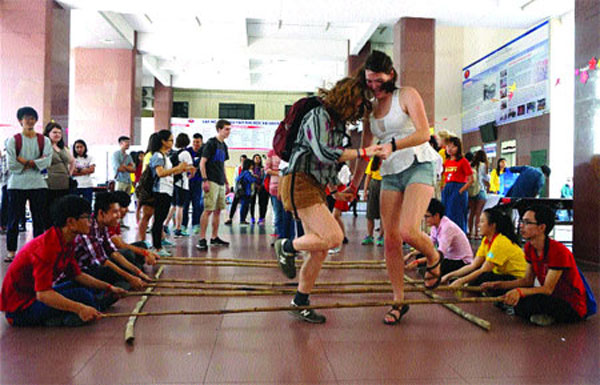 Fast feet: Foreign and local students at HCM City University of Social Sciences and Humanities play a traditional Vietnamese game a few weeks before the Tet (Lunar New Year) holiday. — VNS Photo Van Dat
Though it was nearly 11pm, Nguyen The Hai, a third-year student at the HCM City University of Architecture, was eagerly giving instructions to a group of 24 students about to depart on their motorbikes to different parts of the city.
Dividing into groups of two, they headed out to streets where homeless people can often be seen.
Hai had told his group to park their motorbikes away from the people sleeping on the streets, so they would not interrupt their sleep. He asked that they first slowly approach the homeless men and women and then offer them parcels of gifts and rice gruel.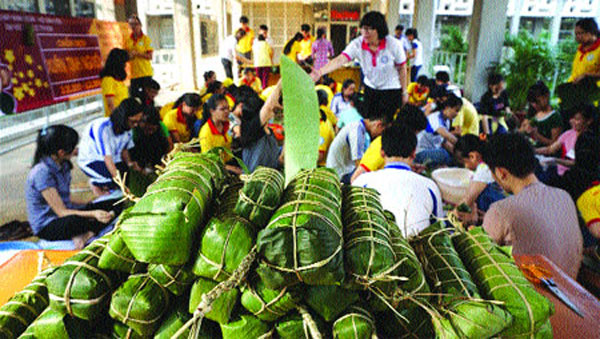 Seasonal spirit: Students hope their cakes will bring happiness to the disadvantaged during the holiday season.
It was the second year that Hai had taken part in the Xuan Tinh Nguyen holiday campaign for the needy. The gifts had been bought with money that students raised at their universities.
"Tet (Lunar New Year festival) is the time for us to express love and share with those who are more disadvantaged than us. During this time, everyone is together with their family at home, but the homeless cannot share this warmth. I feel that I'm much luckier than they are," he said.
Hai said he had decided to join the annual campaign to "bring happiness to people who are often short of everything".
Nguyen Ho Minh Quang, a third-year student at the university, who was part of Hai's group, said he was moved by the gratitude shown by the homeless.
Much appreciated: A HCM City University of Architecture student offers soup to a homeless man on the streets of Binh Thanh District.
Quang said he regularly passed by homeless people on the way home every day.
"My parents were really happy when they found out I was taking part in this activity, as well as other voluntary tasks like painting houses for the poor and making banh tet (round glutinous rice cake)," he said.
On the same day that Hai and his group distributed gifts, about 100 students at the HCM City's University of Medicine gathered in the morning on campus to make 200 cakes.
The students' plan was to make 2,000 cakes to present to needy families and shelters in District 5, and to the disadvantaged living in the city's outlying districts and the provinces of An Giang and Tay Ninh.
Some of the cakes were a bit too small or misshapen, as some students said they had never made them before. But they were made with enthusiasm and heart.
Nguyen Yen Nhi, a fifth-year student at the university, and deputy leader of the university's Xuan Tinh Nguyen campaign, ensured that students make only one to two cakes so that every volunteer could have a chance to demonstrate their skill.
Eighteen-year-old Nguyen Phan Hoang Phuc, a freshman at the university, said:
"I'm sure the cake is delicious. It comes from our heart. I hope that Lunar New Year will be special, happy and warm for some people who don't have banh tet during Tet. Even one cake can be meaningful."
A fourth-year student at the university, Nguyen Viet Tung, said he was also eager to do something helpful for disadvantaged children.
Besides making banh tet, university students are offering other services this year.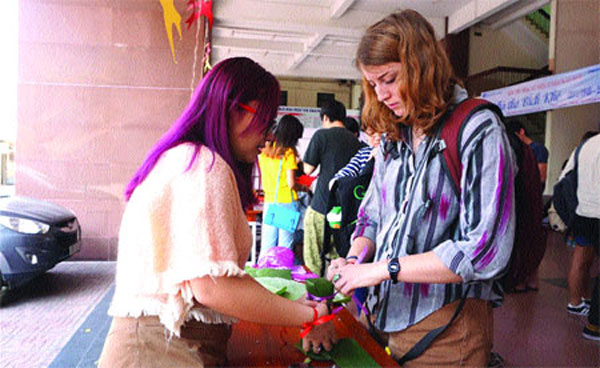 Foreign interest: Tran Mai Lan, a student at HCM City University of Social Sciences and Humanities, shows a foreign student how to make banh tet.
Tung said he and more than 500 students at the University of Medicine gave free check-ups to needy people in outlying districts and neighbouring provinces.
"Using the knowledge we've learned at school made me feel happy. When we arrived, people appeared doubtful, but later they were excited after receiving our support," he said.
The students said they were also planning to donate gifts to patients at the Tumour Hospital and the Pediatrics Hospital.
At the University of Social Sciences and Humanities, students were also making banh tet as part of the annual charity campaign.
Third-year student Tran Mai Lan helped Gahyun Lee, a Korean exchange student at the university, make the traditional cakes.
Truong Van An, a student at the university, was also making banh tet. He said he loved working with others to help bring a warm new year to the disadvantaged.
"Though this is my third time, my eagerness and emotion remain the same," An said.
An recalled bringing gifts to the homeless one evening during the final days of the new year. He said he felt happy after talking with them, seeing their smiles, as they sat outside in the chilly weather.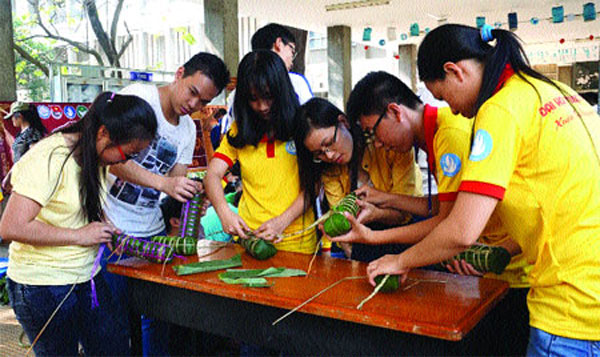 Finishing touches: Students at HCM City University of Medicine make banh tet during an event organised on their campus.
More than 700 students at the university have also planned to donate gifts to people in other areas including outlying Can Gio and Cu Chi districts as well as islands and border areas in 10 provinces of Ben Tre, Tra Vinh, Dong Thap, Dong Nai, Ba Ria - Vung Tau, Ca Mau, Tien Giang, An Giang and Long An.
So far, the students have made 1,000 square glutinous rice cakes for the needy.
Foreign students
The participation of foreign students in the campaign has helped enrich the charity experience for both local and visiting students.
Cambodian You Bunngov, 26, a student at Pham Ngoc Thach Medical University, said he was donating gifts to children at the Tumour Hospital.
"I remember the first time I took part in charity activities in Viet Nam. I followed a Vietnamese friend to a rural area to donate gifts, but I didn't know where it was. The activity helped me learn more about the culture and people of the country," he said.
Bunngov, who speaks Vietnamese, said the experience of meeting local people had motivated him to participate in the campaign each year and continue to do charity work when he returns to Cambodia.
This year, he encouraged his friends to learn more about Vietnamese culture by taking part in the programme.
Pham Van Linh, deputy chairman of Viet Nam Student Association in HCM City, who leads the campaign, said this year, besides getting high school students to be involved, foreign students were also encouraged to take part so they could learn more about Vietnamese culture.
"The students are really happy that the cakes made by their own hands are given to disadvantaged people in shelters," Linh said, adding that foreigners from six countries had participated in the campaign, with most of them from Laos, Cambodia, Myanmar and South Korea.
This campaign, which is in its eighth year, has attracted more than 31,000 local and foreign students this year.
During the campaign's recent launch ceremony, Tran Kim Yen, head of the Commission for Mass Mobilisation of the city's Party Committee, said the younger generations in Viet Nam had always been known "for their contributions to making the city more beautiful in spirit".
Source: VNS