VietNamNet Bridge – Vu Dai villagers in the northern province of Ha Nam are now racing against time to prepare their signature braised carp fish to fulfill orders by customers from different parts of the nation who use it as a Tet (Lunar New Year) specialty.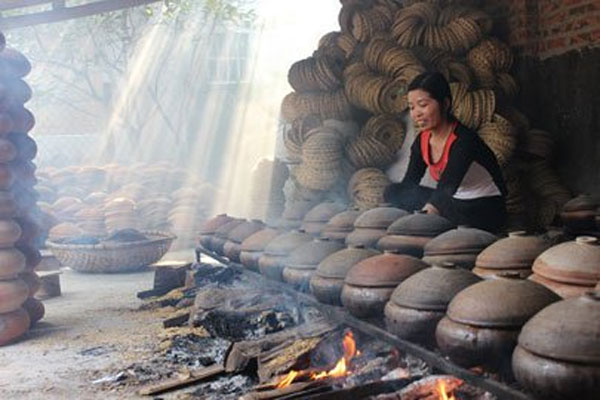 A woman checks clay pots of braised fish in Vu Dai Village in the northern province of Ha Nam – Photo: Courtesy of DASAVINA
The number of secured orders for Vu Dai braised fish for this weeklong Tet, which begins on February 8, has increased significantly against last Tet, according to local villagers.
Tran Ba Luan, the owner of Tran Luan braised fish kiln in Hoa Hau Commune, Ly Nhan District, said he has received orders from 56 of the nation's 63 cities and provinces. In particular, Tran Luan has got orders for 900 clay pots of braised carp from HCMC alone, up by 700 pots against the same period last year.
Luan said he would be delivering the product to customers in HCMC and other southern provinces by air between the 20th and 28th of the twelfth lunar month.
Prices are unchanged from normal days, at VND400,000 (US$17.86) for a one-kilogram pot and VND1.3 million for a six-kilogram pot in the north, he added. But prices for customers in the country's south are higher due to transportation cost.
VND200,000 is added to the price of each pot to cover the cost of transportation from the north to the south. However, this extra sum is down to VND150,000 per pot for orders for more than one pot.
The period from the 20th of the twelfth lunar month is the busiest time in Vu Dai village, with most orders for and deliveries of braised carp taking place, said Luan. His kiln is operational 24 hours and make 800 pots at a time during this period.
Nguyen Ba Toan, director of Vietnamese Specialties Co Ltd, or Dasavina, in Hoa Hau Commune, said the company has received orders for 1,500 braised carp pots for the upcoming Tet from customers nationwide, of which 600 pots are from HCMC.
According to villagers, carp is brought from Nghe An Province on the north-central coast. After it is processed, the fish is embalmed with lemon juice, ginger, galingale, broth made from pig bone and traditional spices of the village before it is braised for at least 13 hours straight.
Tran Dang Thiem, the owner of Oanh Thiem braised fish kiln in the commune, said he has got orders for 1,000 pots nationwide with 500 pots from customers in the south including HCMC, Dong Nai and Vung Tau.
Vu Yen
SGT