The authority of Tan Son Nhat, the nation's busiest airport, has taken a host of measures, including using tablets for check-in procedure and installing more baggage scanners, to cope with a massive human migration during the upcoming Lunar New Year holiday, or Tet.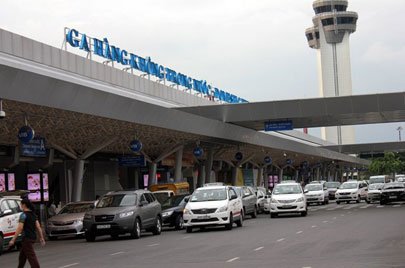 The domestic passenger terminal at Tan Son Nhat airport. The airport has taken measures to ease passenger congestion during the upcoming Lunar New Year holiday - PHOTO: LE ANH
The authority forecast that there would be around 720 daily take-offs and landings on the peak days ahead of Tet, up 14.8% over last Tet, as throngs of people travel home for Tet celebration. The daily number of passengers at the airport is forecast at 99,700 on busy days, rising by 10% over the same period last year.
To reduce congestion in front of the domestic passenger terminal, the airport has opened new taxi stands to allow more cabs to come to pick guests during the peak period of Tet. From January 25, the airport started fining and pulling away vehicles which park in front of the terminal for more than three minutes.
At the terminal, the airport has rearranged the security screening area at Hall B to offer more space for Vietjet's passengers to queue for check-in procedure. One new scanner has been installed to help passengers go through this process quicker.
At Hall A, one more scanner will be put into operation on January 29, bringing the total number to 10. This machine will enable passengers of Jetstar Pacific and Vasco boarding at gates 8, 9 and 10 to complete security procedures instead of having to go to the security screening area designed for Vietnam Airlines flights on the first floor.
Passengers of international flights are advised to complete check-in procedures online and the airport has made eight tablets available to facilitate this. More employees of airlines have been sent out to help passengers complete check-in procedures.
The HCMC Department of Transport has rearranged nearby roads to facilitate traffic in and out of the airport during Tet, which kicks off on February 8.
Trucks and passenger vehicles of more than 25 seats will not be allowed on Tan Son Nhat-Binh Loi-outer ring road in the direction from Nguyen Kiem to Truong Son streets from 6 a.m. to 11 p.m. from January 29 to February 15.
Airlines have called for passengers to arrive at the airport three hours before departure time. Passengers are advised to complete check-in procedures online or at automatic check-in kiosks at the airport.
If passengers arrive at the airport when check-in counters are about to close, they should contact staff of airlines for prompt assistance.
SGT