VietNamNet Bridge – Members of the Ha Noi Food Rescue (HFR) have transported more than 15,000 packets of leftover food from hotels and restaurants to the underprivileged, disabled and patients in areas of Ha Noi.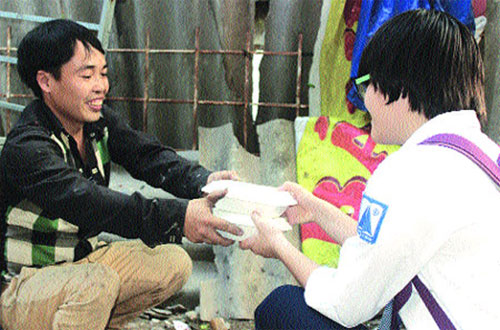 Tackling hunger: A member of HFR hands food containers to a poor person on Van Phuc Street, enabling him to reduce his daily spending. — VNS Photos Do Thuy
Joining a journey of delivering eatables from De l'Opera hotel in Hoan Kiem District to poor families in Van Phuc Street, Ba Dinh District, I witnessed carefulness, enthusiasm, kindness and happiness of high school students during the process of wrapping, transporting and presenting food to the needy.
Originating in a "Dash for Impact" competition, which aimed to conduct projects directly and positively impacting the society, the HFR was established in August 2013 by a group of students from Ha Noi-Amsterdam, Luong The Vinh, Chu Van An high schools.
Under the slogan of "take food from the redundant to short", the team aims to collect food surpluses from restaurants and hotels, and give it to the needy.
"We conduct the project with the expectation of helping the poor and patients in hospitals to enjoy better meals, which partly reduces their daily spending," Do Minh Hanh, a 10th grader at Ha Noi-Amsterdam as well as a member of the HFR said. "Besides, it also enhances the community's awareness about saving food."
With this in mind, the HFR attracts a lot of students from Ha Noi. Starting with only 30 members, it now has more than a hundred. Although all members are busy with their studies, they ensure that every afternoon the food is brought to the beneficiaries at National Cancer Hospital, National Hospital of Paediatrics, the needy families on Van Phuc Street and disabled children, etc.
"Our work often starts at about 2pm and ends by 5pm or 6pm," Hoang Minh Duc, a member of the team said. "We often gather at a place and travel together by bus or electric bikes."
Initially, I was worried about the hygiene of the food while it was being transported, but seeing the students with gloves to classify and put food into clean small boxes, I realised my worries were unfounded.
Hanh confided that they faced a similar problem when they decided to ask hotels and restaurants to provide them with leftover food.
"At first, we were worried because it was difficult to control the food quality and safety when it was taken out of the hotel," Pham Khanh Van, marketing and communications manager of De l'Opera hotel said.
"However, we find that the HFR's activities have a humane reason which helps the community. Besides, it helps us to avoid food wastage, so we decided to become the providers," he said.
According to Van, the hotel has been providing thousands of food packets to the group for two years now.
Apart from De l'Opera hotel, the group also receives food from others such as Handico Group, Sofitel Plaza, Viet Nam People's Police Academy (VPPA), etc.
"This is a meaningful activity. We are willing to work with this group in the long-term," Van said.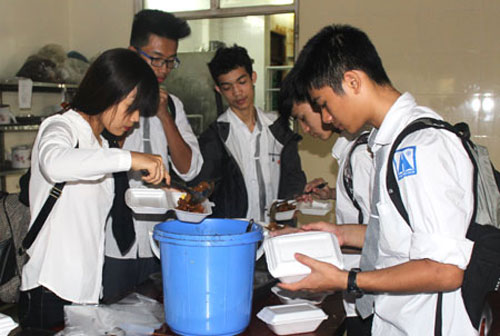 Good deed: Students from the Ha Noi-Amsterdam High School divide food into individual portions.
Additionally, the most difficult thing for the members are the transport facilities receiver. If they take the bus, they have to wait for a long time at bus stops, and sometimes the locations where they take food to, are not near a bus stop. If they travel by electric bikes, the weather could affect them, especially when it rains. However, a suitable arrangement has helped them.
"We have dealt with this problem by arranging the food givers and receivers accordingly," Tran Khanh Duong, an HFR member said.
"For example, if the giver is VPPA, the receiver will be the centre for disadvantaged children, which is located about two kilometres from the provider. This way, we save time as well as ensure the food's safety," he explained.
Thank to this suitable plan, various food items such as rice, bread, vegetables, and cakes, are presented to the needy in a day, and the food quality is ensured.
When handing over the food packets to the needy, the HFR members are really happy because they do something meaningful for the community.
"I feel very happy doing something for society. Sometimes, I am tired after three or four hours of delivering food, but the smiles of those who receive it takes away my tiredness," Hanh said.
Like Hanh, Duc said he had become more confident after delivering so many food boxes.
"Talking to the needy families or handicapped children, I feel lucky to live in a full house. I am also proud of contributing in my small way to help these people," Duc said.
This charity work is also an interesting experience for the volunteers.
They are helped by their parents at home. Now, they have the chance to prepare and pack food for others. Besides, this work leaves them with unforgettable memories.
"I remember, once when I presented some food to a patient at the National Cancer Hospital, she burst into tears. She was about 50. She embraced and thanked me, which made me cry and unable to forget her," Hanh said.
Giang Phuong Linh remembered a cup of water a patient with kidney disease at Bach Mai Hospital gave her on a hot day after she had delivered the food.
Joining us in the journey of receiving food that day were two students, Le Hong Long and Tran Nhat Minh, who were not yet members of the HFR. They had just learnt about the team and wanting to know more decided to go with us.
"After joining the team in the journey to get the food, we feel really happy and find it is meaningful work," Long and Nhat said.
"We feel sorry for ourselves because we did not join the group earlier. After today, we will register to become official members to help more people," they said.
The parents also support the activities of the students. According to Duong Thu Thuy, it is her father who helps the group to buy the boxes meant to pack the food.
Nguyen Si Hoa, from Thanh Xuan District, and the father of a member, supports his daughter by taking her to the place from where she has to pick up the food, if it is too far from her home.
"I completely support my daughter in this work. It helps her develop love for the community, makes her more mature, and more importantly she will learn to respect what she has at present," Hoa said.
The team's activities are really meaningful, and they partly help to encourage the food recipients.
"When receiving the food sets from the HFR, we are really moved. It shows the community's care for the handicapped here," Hoang Thi Hoan, 26, from a centre for disadvantaged people, said.
Not only Hoan, even the poor families at Van Phuc Street were extremely touched to receive the food packets. Mai Van Giang (not his real name) from the northern province of Vinh Phuc, came to Ha Noi five years ago. To earn their living, he and his wife work as scrap dealers, servants or cleaners, but the work does not guarantee any stability.
"The food from the students partly helps us to curtail the family's spending. I really want to thank them," Giang said.
Apart from presenting food, the HFR also holds other events to enhance the awareness of youth to food security. Annually, the group carries out a Lunar New Year donation programme where members collect suplus sweets and biscuits from families after the holiday and give them to children at Hoa Binh, SOS villages, etc, where the needy or the disabled are taken care of. The team collected 185 sweet packets in 2014 and 245 ones in 2015. Additionally, the HFR holds a mid-autumn festival for poor students.
In the near future, the HFR plans to broaden its network. Its biggest expectation is establishing the first food bank in Viet Nam which not only "rescues" the food but also plays the central role in enhancing people's understanding, and awareness, while promoting programmes about food security in Viet Nam. However, to carry it out, the HFR really needs the support and co-operation from private and social organisations.
Do Thuy
VNS