Vu Van Khuyen, 46, a fish farmer from Ha Long city, is optimistic that his aquaculture farm will make him huge profits this year.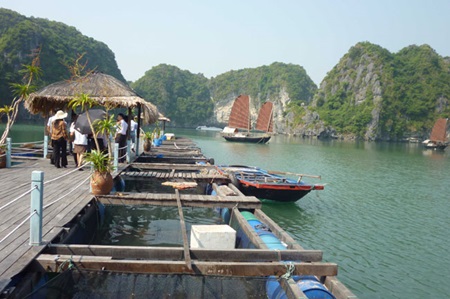 Since taking part in a pilot project initiated by Van Chai-Ha Long Co-operative, which integrates floating fish farms with eco-tourism, Khuyen and 70 other households in the resettlement area no longer have to deal with risks like fish loss and environmental destruction.
The project has provided technical assistance since March this year in VungVieng fishing village, where fish farmers lived before relocation, aimed at stablising farmers' livelihoods and creating tourism products based on fish farmers' culture.
Nguyen Van Cong, deputy director of Ha Long city's Department of Agriculture and Rural Development, said that previously, when fishermen raised fish on their own, some could not expand the breeding area as they lacked knowledge on sustainable breeding.
Their outdated techniques caused pollution and damaged the seabed's environment.
They also had to catch baby fish at sea to feed breeding fish. About two to three kilograms of baby fish were needed to feed one kilogram of breeding fish, which would lead to an over-exploitation of natural fish in the long term, Cong said.
"QuangNinh People's Committee is willing to instruct fishermen what to breed and what techniques to use for high productivity," he added.
Under the project, with the breeders' own investment in fish stocks, they raised nearly 20,000 fish in about 100 square cages. Most of the cages are located on the co-operative's floating wooden houses while the others are attached under the foot of mountains or preserved floating houses where locals used to live.
Selecting high-quality breeding fish was also a concern for the co-operative.
In 2010, local farmers had suffered heavy financial losses as they purchased cheap breeding fish from Chinese enterprises. Some even lost all their invested money.
"The quality of breeding fish is one of key factors that determine output. This season, the co-operative is working to mitigate losses by carefully selecting reliable sources from ThienLoc joint stock company," Tang Van Phien, director of Van Chai-Ha Long Cooperative, said.
The fish raised in the farm, mainly cavuoc (Asian seabass), ca song (garrupa), cahong (red snapper), are suitable to the Bay's waters and bring high economic profits. One kilogram of Asian seabass can be sold at VND120,000-140,000 (US$5-6), according to the company's experts.
By products
Besides fish breeding, farmers cultivate aquatic rongmo (sargassum) in net cages interleaved with fish's cages.
The plants, which take from 60 to 90 days to be harvested, are tasty and nutritious food for farmers and tourists. They can also be used to produce cosmetics, Luong Van Thuong, Aquaculture Specialist of ThienLoc Joint Stock company said.
"Rongmo also helps to clean waters and provides a healthier environment for the fish," he added.
At present, rongmo areas cover about 300 sq.m. Tourists can harvest rongmo with local farmers and then enjoy some dishes made from rongmo on the spot.
Tourists' expectation
Despite efforts of the province and the Co-operative to develop the city's eco-tourism, they have learned that tourists expect to have more authentic experiences.
"We have conducted many surveys and found that visiting floating fish farms is one of the most enjoyable activities that tourists want to experience", said Don Van Dung, general director of Indochina tourist agency.
James Fahn, an American tourist and environment journalist, came back to Ha Long Bay early this month after 20 years. He was surprised at the development of the Bay and praised the new fish breeding model because of its positive impact on the environment. However, he said he hoped to experience a real day of a floating boat resident.
"I am a little disappointed. Before the trip, I expected to see the hectic atmosphere in the floating village, but when I arrived, I only saw few farmers there. It looks like a museum to me."
The province was determined to invest all necessary money and resources to make this model a success. It has planned to invest VND5 billion ($220,000) to expand the model with many more residents participating in the project, Phien, the Co-operative director, said.
VNS