VietNamNet Bridge - People living in the Mekong Delta eagerly wait for flood season every year, as they thrive from sales of various hand-crafted goods and huge hauls of fish and other aquatic animals. But due to El Niño and the construction of many hydro-power dams in the upstream Mekong River, floods will be lower this year.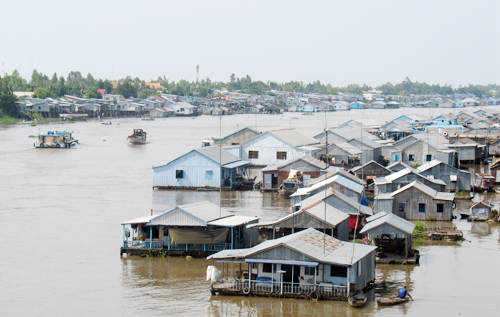 According to the National Hydro-meteorological Center, floods in the Mekong Delta will reach their peak in late September. However, the water levels of some local rivers like Tien Giang and Hau Giang are about 1.2 m lower than the average level of previous years.
"This year floods are very low, and may be lower than the record low flood in 1998," said Khuong Le Binh, director of the Hydrometeorology Station in Dong Thap province. Binh said the cause was El Nino and hydro-power dams on the upstream Mekong River.
Low floods will affect local residents' fishing activities while the fields will not have additional alluvium, resulting in poorer crops next year, Binh said.
Nguyen Van Thao, the Vice Chairman of An Phu district of An Giang province, said that people had usually harvested about 2,000 tons of natural fish during the flood season in previous years but this year they have had nothing.
"Even the low-lying areas do not have floods, so how can people have fish! People are waiting for the floods," Thao said.
Thu Ly