Thousands of hectares of rice in the Cuu Long (Mekong) Delta were flattened after heavy rains and strong winds hit the region this week.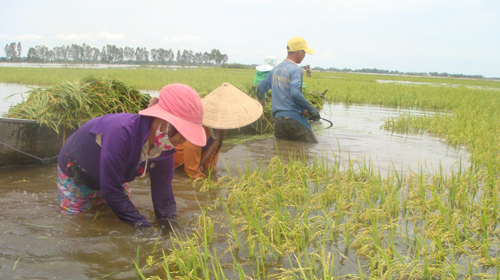 In Dong Thap Province, more than 3,000ha of rice ready for harvest in three districts were flattened, causing an estimated yield reduction of 10-20 per cent.
Despite public pumps being operated around the clock, rice fields are still inundated and harvest machines cannot be used.
At least 90 per cent of Tran Van Thom's 3ha of OM 4900 rice fields in Tam Nong's Phu Tho Commune were flattened by severe weather caused partly by Storm Vamco that hit the central region this week.
Thom said that farmers in the area had never experienced three consecutive days of severely inundated rice fields.
Traders are now offering to buy fresh paddy directly at fields for a price of VND4,300 a kilo.
Farmer Thom said he would sell rice paddy at a loss because he had been unable to find a dryer to dry the paddy. Flattened rice has lost some of its quality, contributing to a drop in price.
The Dong Thap Department of Agriculture and Rural Development has instructed districts and agriculture co-operatives to speed up the pumping of water out of rice fields and prepare machines to harvest rice when the weather improves.
Farmer Phan Thanh Duc in An Giang Province's Thoai Son District said the water level in rice fields had increased since Sunday, submerging 100 ha in rice-zoning areas. "If the inundation lasts a long time, farmers will lose everything," he said.
Nguyen Duc Ky, deputy chairman of the Vinh Thanh Commune People's Committee, said the rice zoning area No1 had seen the most damage.
The rice zoning area No1 had 268ha of rice. The commune had speeded up pumping water out of rice fields to mitigate damages, Ky said.
In Tan Chau Town's Phu Loc Commune, soldiers in Tan Chau Town's Phu Loc Commune have been helping farmers harvest the rice submerged under water since Wednesday.
About 10,000ha of rice ready for harvest in An Giang Province are still under water.
In Ca Mau Province, rain and winds flattened more than 3,400ha of rice in Tran Van Thoi and U Minh districts, according to the province's Irrigation Sub-department.
The yield at the rice fields is expected to fall by 30 per cent, according to the sub-department.
Ca Mau's agriculture officials have instructed affected districts to open sluice gates to release water from rice fields. Local farmers have also been encouraged to use pumps at rice fields. 
VNS