VietNamNet Bridge – Local residents in Hanoi are complaining about the deafening noise produced by public loudspeakers, saying that the iconic method of mass communication has reached its sell-by date.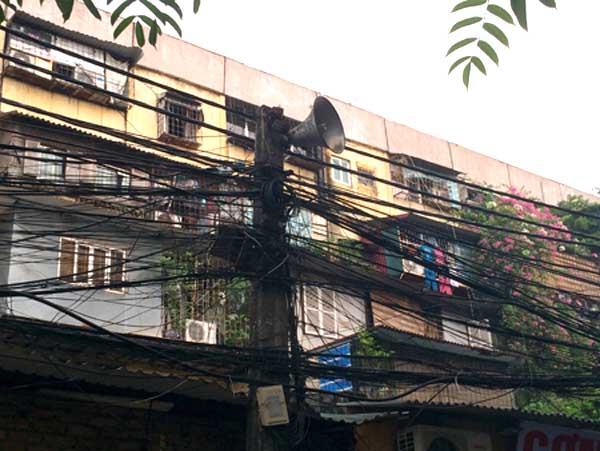 A loudspeaker placed near an old apartment building in Hanoi
Pham Van Phuong in Bach Khoa Ward, Hai Ba Trung District said the loudspeakers were now a largely annoying hangover of a previous time and no longer necessary.
"They often turn them on in the early morning or late in the afternoon when people need to relax after a hard working day," Phuong said. "They're played at maximum volume and all they're doing is causing noise pollution in the capital."
Loudspeakers can be seen in many areas in Hanoi, especially near old apartment buildings. They can be found on utility poles, on trees, on apartment walls. Every ward in a district has its own council and councillors use speakers to provide public information announcements on health issues, new governmental resolutions, what time to clean the streets, pet vaccination advice and very often random choices of music.
Nguyen Huy Du who is living in an apartment building in Kim Lien Ward, Dong Da District said that a speaker was recently been placed on top of his apartment and it has had a terrible effect on his life.
"We're sick of the annoying noise which goes on for two hours starting at 6am and 5pm every day, Du said."It's really irritating, especially when we're sick well or when we want some more sleep during weekends. I and some of my neighbours have complained to local officials but they said it is their only way to pass on information to the community."
Nguyen Van Hau, deputy chairman of HCM City Bar Association said that people are being forced to listen to the public loudspeakers.
"I've heard many complaints about those annoying speakers many times but they are still operating in many wards in Hanoi. I think that Hanoi should follow HCM City to remove these loudspeakers and send information by phone messages, emails or via ward websites. These speakers may still be useful in the countryside or remote areas which lack modern communications devices, but not in big cities like Hanoi."
However Hau said that there currently aren't any regulations relating to the public speakers regarding broadcasting time and contents, or volume so local people can't take legal action against the ward's authorities when they place a speaker near their houses or broadcast something they don't want to listen to."
DTriNews