VietNamNet Bridge – More Vietnamese women marry Korean men than in any other country. The South Korean government has even funded special courses in Viet Nam to help the women grow accustomed to their new home. Ha Nguyen reports.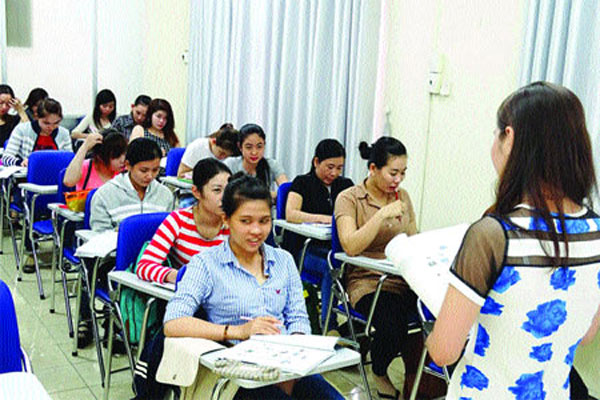 Engagement exams: Vietnamese brides learn Korean at a centre offering support and consultative service for foreign marriage at the HCM City Women's Union. — VNS Photo
Viet Nam ranks first around the world for the number of women married to South Koreans, at more than 40,000 as of September 2013, according to figures from the Diplomat.
The South Korean government is funding open special courses to help these brides integrate well with that country at different locations in Viet Nam such as HCM City, Can Tho and Hai Phong.
Huynh Thi Mai, 21, the eldest daughter of a poor farmer family in the Cuu Long (Mekong) Delta Province of Ben Tre, was among 30 young women who joined a course early this year in HCM City.
Mai married Korean Lee Geun-sik, 45, in 2013, with the help of her cousin who married a Korean man five years ago and started living in that country.
"I was very curious when my cousin told me that life was much easier in Korea. One day, she brought Lee to visit my home. Although we couldn't talk to each other much due to the language barrier (with some translation by my cousin), I felt that he is a good-natured person," Mai said.
That was enough for her to marry Lee a week later, she said. After the wedding, they lived together for only a few days at a restaurant because Lee had to return to his country for business.
"My husband speaks to me every day via a webcam. He doesn't understand what I say and I also don't understand what he says, but only see our images. However, Lee's smile pleases me," Mai said.
Three months after the wedding, Lee returned to Viet Nam.
"I went to Tan Son Nhat Airport (in HCM City) to welcome him. It was the first time we were meeting as husband and wife, but we still couldn't express our sentiments to each other due to the language barrier. There was just a slight embarrassment between us," Mai said.
Several days later, Lee went back to South Korea, leaving behind a lonely Mai.
"I felt sad and started spending my time learning Korean, and registered for the course for Vietnamese brides in HCM City," Mai said.
During the three-day course, the brides were introduced to South Korea, its history and culture as well as how to locate on maps the places where their husbands and their families lived and worked.
"Our teacher Que Nguyen tells us that we should remember our husbands' residential address, not the address written on their documents, and that we should remember the name of the city or the province where we live so as to avoid getting lost," Mai said.
Teacher Nguyen said brides had got lost as they could not remember their husbands' exact addresses.
Nguyen, who has been doing this work for more than three years, said the number of Vietnamese brides registering to join the course had been increasing.
"Through direct contact with the brides, I see that most of them are poor and wish to marry a foreigner with the hope of changing their lives and helping their families," Nguyen said.
In recent years, the main reason for the breaking up of Vietnamese-Korean marriages had been the language barrier, in addition to little understanding of their partner's culture and customs, Nguyen said.
For example, in a Korean family, the members never pick up a bowl of food during meals, compared to Vietnamese people who tend to take the bowl close to their mouths to eat food.
This might cause discord between a Korean mother-in-law and a Vietnamese bride, Nguyen said.
Mai said Nguyen told the learners that the first two years of the marriage was the most difficult for brides for integrating into their husband's family, and so they should try their best to learn, watch and act accordingly to gain confidence and sympathy from their husband's family members, particularly the mother-in-law.
"We are taught how to make popular Korean dishes such as kimchi and bibim bab," Mai said, adding that the women were informed that the number of Vietnamese and Chinese brides was increasing in South Korea, and so centres teaching the Korean language and customs or to help them find jobs were opening in many localities free of charge.
"You should go to these centres to ask for help, if necessary," Nguyen told her students.
Mai's classmate, Nguyen Thuy Hai, from the Mekong Delta province of Hau Giang, said many girls from her Tan Vi Village (Vi Thanh District) had married Korean men.
"I'm not worried about living in South Korea because I have many neighbours who already live there with their Korean husbands. I hope they will help me when I face difficulties," Hai said.
She said although she doesn't known Korean much, she often rang her mother-in-law.
"She told me to comply with all the necessary formalities to join her family," Hai said.
In contrast to Mai's and Hai's stories, Hoang Thi Thuy, 21, from Ben Tre's Ba Tri District, met her husband via a matchmaker and married him three days later.
"Hai's husband lives in Seoul, while my husband's home is in the southern-most province of South Korea. They do fishing in the sea.
"I'm attending the course and waiting to join my husband in South Korea. I get confused when I think of my future life so far away with strange people," Thuy said.
She said she would try her best to learn everything the course offered because the course certificate could help her easily get a visa to settle in South Korea.
A representative of the Asia Culture Exchange Foundation (ACEF) in HCM City, Kim Ki-young, in charge of organising such classes, said over the past four years, the foundation funded short-term courses for 4,000 brides aged between 18 and 30.
"I appreciate the South Korean government's initiative. Every year since 2011, it has granted US$80,000 to the foundation to organise such courses. I hope with such efforts, the marriages between foreign brides and Korean men would become durable and happy," Kim said.
VNS