Customs officers and anti-smuggling forces on August 13 confiscated 735 kilogrammes of elephant ivory and rhino horns smuggled through Tien Sa port in the central city of Da Nang.
The ivory and rhino horns were hidden in two containers containing marbles shipped from Mozambique to Da Nang.
The case is now under further investigation.
Earlier on August 12, about 100 kg of wildlife products suspected to be elephant tusks and rhino horns were found being smuggled into Vietnam through the Noi Bai International Airport in Hanoi.
Elephant tusks and rhino horns are subject to import ban in Vietnam. The animals are listed among animal and plant species under the Convention on International Trade in Endangered Wild Fauna and Flora.
On the black market, rhino horn is priced at 133 USD per gramme while African elephant tusk costs up to 2,100 USD per kilogramme.-
Smuggled ivory and rhino horn seized at Noi Bai Airport
Customs officers at Noi Bai International Airport in Ha Noi and anti-smuggling forces have detected and seized about 100 kilograms of suspected elephant ivory and rhino horn.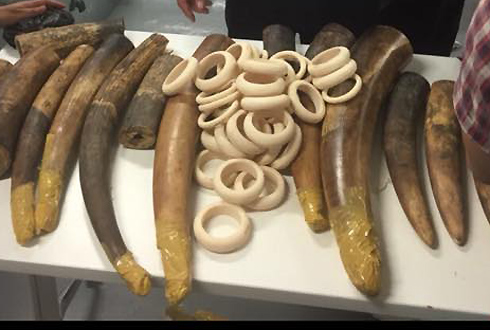 Forty-nine pieces of ivory, weighing about 96 kilograms and one rhino horn, weighing about five kilograms, were hidden in luggage shipped to Ha Noi from South on Wednesday.
At present, one gram of rhino horn fetched about US$133 in black market, while elephant ivory from South Africa valued at about US$2,100 per kilogram.
Thus, the confiscated tusks were estimated to be worth more than VND10 billion (about US$460,000), according to an anti-smuggling officer.
This was the fourth seizure of smuggled ivory that had been detected in the last four months and the largest illegal shipment from abroad, Noi Bai customs authorities said adding that the case was under investigation.
Previously, on April 16, customs officers at Noi Bai Airport detected and confiscated about 65 kilograms of elephant ivory and rhino horn shipped from France. 
VNS/VNA