VietNamNet Bridge - According to some experts, the heavy consequences suffered by Quang Ninh province after the recent torrential rains and floods were caused by natural disasters but also by man.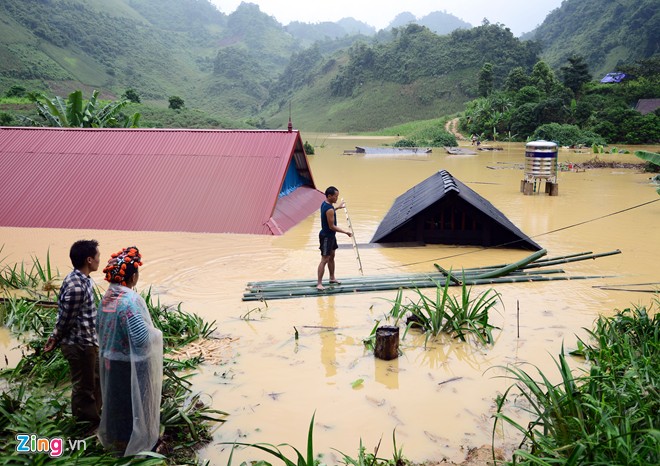 Floods in Tuan Giao District, Dien Bien Province.

North Vietnam is undergoing very rainy days, which has caused flooding in many provinces and cities. At least 28 people have died, six others are missing, and 40 injured. Material damage has reached hundreds of millions USD.
Quang Ninh province suffered the worst territorial rains and floods in 40 years, which killed 17 people and caused losses worth VND2 trillion (nearly $100 million).
The coal industry of Vietnam, based in Quang Ninh, has been paralysed. The Vietnam Coal and Minerals Corporation said that it will take the coal industry 3-5 months to resume operations.
After heavy rains, many areas in Quang Ninh province were submerged deeply. Boats could move on the roads.
Prof. Ph.D Nguyen Duc Ngu, Director of the Center for Hydrometeorological and Environmental Sci-Tech said the territorial rains in Quang Ninh was not abnormal because it occurred in the rainy reason but it was abnormal because it turned suddenly from dry weather and drought to heavy rains.
Prof. Ngu said climate change has made the earth warmer. At sea, the humidity is higher. The earth surface is hotter so convection activities are stronger, forming huge clouds, especially vortexes. The low furrow causing heavy rains in North Vietnam, particularly Quang Ninh, previously existed in the southern China. When it moved to North Vietnam, it caused heavy rain.
"The volume of water converging in that furrow was huge. This is climate change and there have been repeated warnings," said Prof. Ngu.
He also said that climate change would continue to create extreme weather phenomena like heavy rain, drought, cold weather. And the consequences will be more severe.
However, Duc said that the severe consequences in Quang Ninh were not only caused by natural disasters but mainly by man-made factors. Particularly, deforestation has caused less water retention, increasing landslides.
Quang Ninh is the largest coal mining region in Vietnam, with many slag dumps as big as hills. The structure of these waste dumps is not solid, so when it rains heavily, sludge streams are formed.
The terrain in this region is complex with hills and depressed areas. Houses are usually built on the side or at the foot of the mountains so when it rains, the houses on the mountain sides can be swept away and those at the bottom of the mountain can be submerged.
He warned that in the future Vietnam will not only face extreme weather phenomena but also dangerous weather forms like storms combined with heavy rain, heavy rain combined with high tides, and high sea levels caused by storms and strong winds. Then the threat will increase several times.
Thus, a climate change prevention plan should be specific. In particular, it is necessary need to enhance the capacity and resilience of communities against climate change, to equip people with the necessary knowledge to prevent and minimize damage.
Prof. Dr. Phan Van Tan, Head of the Faculty of Meteorology, Hanoi University of Natural Sciences, also said that heavy rain causing severe flooding in Quang Ninh was extraordinary. According to data, the rainfall for the period (26/7-3/8) at Cua Ong Town, Quang Ninh, was approximately 1.500mm, the highest ever.
Extreme weather phenomena has been frequent this year in Vietnam. In May northern Vietnam suffered  record heat for the last 44 years. On June 13, the strongest thunderstorms in Hanoi in 30 years occurred. On July 6, the weather in the resort town of Sapa turned cold in summer, with the temperature down to 12.7 degrees C.
Unseasonable rain was also reported in the central province of Quang Ngai (in mid dry season – March 2015). For months, droughts affected south central provinces like Ninh Thuan, Khanh Hoa and the Central Highlands. The territorial rains and floods in Quang Ninh and northern Vietnam have not yet ended.
The ongoing downpour over the last week has claimed a total of 34 lives and caused economic losses of thousands of billions of Vietnamese dong in northern mountainous provinces.
According to the National Centre for Hydro-Meteorological Forecasting, there is a high risk of flash floods and landslides in Quang Ninh, Ha Giang, Tuyen Quang, Lao Cai, Yen Bai, Lai Chau, Dien Bien, Son La and Hoa Binh.
Low-lying areas in Quang Ninh, Hai Phong, Bac Giang and Yen Bai are highly vulnerable to inundation.
The torrential rain continued in Quang Ninh and Hai Phong on August 4 and is forecast to fall over much of the country throughout the day.
In Dien Bien, over 230 houses and 77 water supply stations were damaged while nearly 900 hectares of rice and crops were submerged underwater.
Landslides occurred at dams in Bac Giang and on 30 sections of national and provincial highways in Lang Son.
Other provinces have also been badly affected with heavy rains washing away bridges, roads, houses and cattle in various villages.
Affected localities are working to resume traffic flow on major roads, communication and utility services and flush water out of irrigation facilities.
Quang Ninh province, which suffered the heaviest rainfall in 40 years, had opened blocked roads to traffic and fixed water spills at dams as of August 3.-VNA
Latest photos of the floods in northern provinces:
In Tuan Giao, Dien Bien province.
This is the most seriously flooded area in Tuan Giao. The flood water is over 3m deep.
 Many families have to live on temporary tents on hills.
 This big pot is the only thing that this couple saved in the flash flood in Tuan Giao on August 1.
 Ethnic women in Tuan Giao prepare the dinner for their families with the kitchen tools left from the flood.
 Building a tent.
The pigs survived in the floods.

Floods in Thanh Hoa province.
Many roads in Thanh Hoa are damaged by landslides.
On Viet Hai Island, Hai Phong.
   Photo: VNE/Zing/Dt

Nam Son