VietNamNet Bridge – Snakes not only appear in the suburbs but also downtown Saigon. Each day, the municipal emergency center receives reports of several cases of snakebite.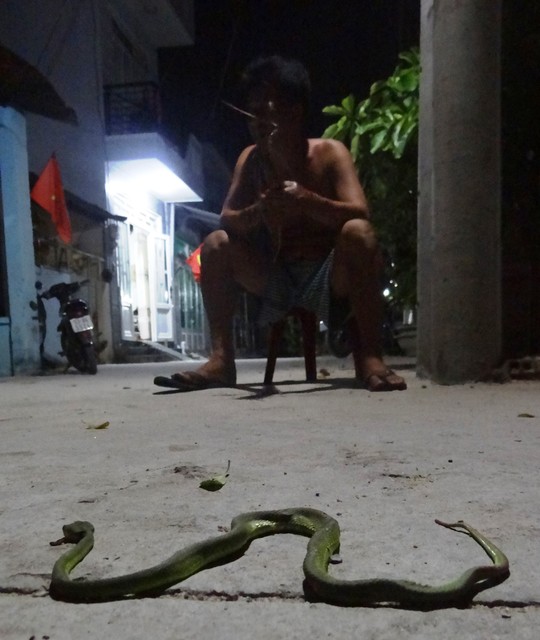 In the afternoon of June 22, dozens of customers who were buying shoes at a shop on Nguyen Trai Street, District 5 started at the shout "A snake, a red-tailed viper out there!" Shoppers panicked and ran away. A man rushed to capture the snake. The snake died on the spot.
The snake had a bright red tail and a triangular head, slimy skin. A moment later, two other snakes appeared and crawled near the dead snake. Some people used sticks to drive them away. They crawled down a sewer.
Mr. Phu, who killed the snake, said: "It is normal to see red-tailed vipers appearing in the suburbs, where there are many trees and grass. But this place is in the city center…"
Many people in Cho Cau, Go Vap District, also saw red-tailed vipers.
In Thanh Loc Ward of District 12, within two months alone, local residents killed over 10 snakes and drove away tens of others.
These days drivers can see dead snakes along the Provincial Road 19, District 12. Mr. Thach, a local man, said his daughter and his wife saw snakes.
"On May 23, while playing with other kids, my daughter stepped on the tail of a snake. Hearing her screams, I ran out to take her out of the snake. A week later, my wife was panic seeing a snake on our bed," Thach said.
An official from the Centre of Preventive Medicine of HCM City said that agencies received reports of the abnormal appearance of red-tailed vipers in the city and they would take preventive measures very soon. He said there were no reports of people being bitten by red-tailed vipers.
The Center for Preventive Medicine recommended that people dust sulfur powder around the house to cast snakes away.
There are two clinics in Ho Chi Minh City that are able to treat snakebites: Cho Ray Hospital and the Emergency Center 115.
After seeing pictures of snakes in HCM City, Dr. Vu Ngoc Long, Director of the Institute of Southern Ecology, said some of them are not red-tailed vipers and they do not have venom.
Dr. Long said that the abnormal appearance of snakes in HCM City may be caused by urbanization. Moreover, this is the rainy season and the reproductive period of snakes.
In late 2014 the number of victims of red-tailed vipers rocketed in the Mekong Delta and central region, raising concerns among locals.
Red-tailed vipers (Trimeresurus albolabris) are very common throughout Vietnam. This species often prefers to live in the hills with elevations below 400m, in evergreen forests, wetlands or agricultural lands. Their food includes mice, birds, lizards and frogs. They are on the ground at night, and rest in trees during the day.
However, when touched by anyone, they will bite them and secrete their toxic venom.
The snake can still be dangerous even after they have died. They can secrete deadly venom within 90 minutes after their death.    
Phong Lan