VietNamNet Bridge - In Vinh Chau town, Soc Trang province many onion-farming family have blind people. Some family has up to 2-3 blind members. Most families with blind people work with red onion all the year.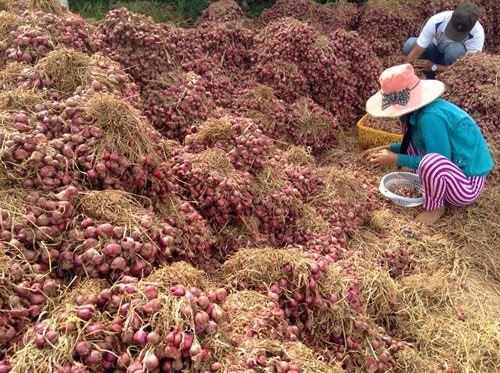 According to the Red Cross Association of Vinh Chau town, the small town has more than 1,200 blind people and many of them lost their eyesight when peeling onion.
Vinh Chau is one of the largest onion area in Vietnam, with 4,000-7,000 ha/year. According to onion traders, after gathering onions to the warehouses, they usually spray a powder containing Mipcin pesticide to maintain onion for up to a year. Every one ton of onions is mixed with a sack of 40kg of powder with 2-4 kg Mipcin pesticides.
Dr. Do Nhu Hon, former director of the Central Eye Hospital, said the eyes will be seriously if people work for a long time with onion. Moreover, while peeling onion, workers may rub their eyes with their unclean hands, which is harm for their eyes.
Mr. Phan Tan Phat, former Deputy Director of the Health Department of Soc Trang province, said many Khmer people in Vinh Chau are blind but it is not sure that they were blind because of onion.
Phat confirmed that local people do not use pesticide to maintain onion nowadays. It was the old story.
Minh Phu