VietNamNet Bridge – Ton Gia Hoa, vice president of the Viet Nam Craft Villages Association, spoke to Hai Quan (Customs) newspaper about the challenges facing traditional Vietnamese handicrafts and measures needed to make them more competitive.
What challenges will traditional Vietnamese handicraft products have to cope with when the ASEAN Economic Community (AEC) and its attached free trade agreements go into effect?
The Viet Nam Craft Villages' Association organised many conferences to evaluate the impacts of integration and invited experts to speak about issues related to macroscopic economies in craft villages across the country. Most enterprises, co-operatives and residents of craft villages have little knowledge about AEC and what they stand to gain or lose once integrated.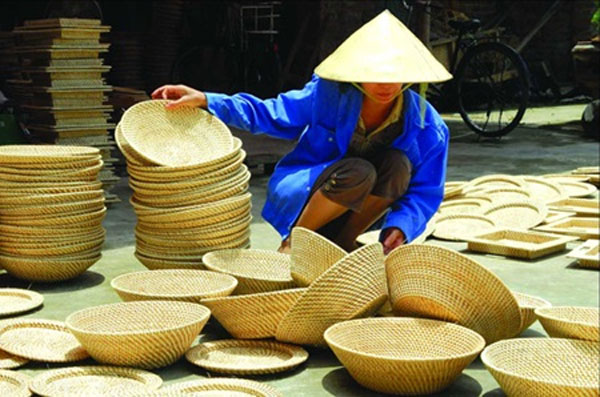 Illustrative image -- File photo
I think many craft businesses will be forced to close down if they do not re-examine their weaknesses and repair them quickly, especially the lack of cooperation between craft villages.
The current capacity to connect craft villages is rather weak. Most businesses are skilled in making detailed craft products, but they can't produce them in large quantity in a short order. Many craft enterprises admit that they had to refuse large orders that needed it delivered within a month.
Domestic enterprises are not good at working with each other to meet large orders, unlike enterprises in the other regions. Customers moved on to enterprises in Lao, Thailand and China.
In your point of view, could Vietnamese traditional handicraft products be competitive with those from other countries?
We can't underestimate traditional craft economies of regional countries, but we should also acknowledge our advantages. Vietnamese craft products have unique and age-old cultural values. We should take advantage of this to compete with craft products from other countries.
Another factor that makes our products competitive is labour cost, which is much more reasonable than other countries in the region. Vietnamese craft villages could use local workers so that they don't have to go abroad for work as they currently do.
What is the biggest weakness of the traditional craft industry?
Design and copyright protection are the biggest problems facing craft villages. Many villages have yet to protect their products with trademarks. These problems must be solved by the time we integrate.
What should craft villages do to develop during the integration process?
Based on studies done of craft villages in Viet Nam, authorised agencies and sectors have worked out a variety of measures to improve and develop them. However, it's not enough.
We want to organise a discussion for artisans and local residents of craft villages to speak about their difficulties to responsible agencies so that more supportive policies will be provided to them.
We have already missed several opportunities to develop our traditional handicrafts because of a shortage of co-operation amongst relevant authorities and individuals.
Moreover, to improve the production capacity of craft villages, I think an effective co-operative model would be the key to help connect craft villages.
VNS