VietNamNet Bridge - The quality of human resources of Vietnam ranked 11th among 12 countries in the World Bank's survey.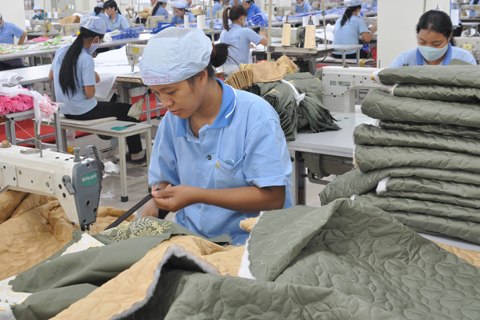 In a speech at the Spring Economic Forum 2015, Dr. Bui Sy Loi, Vice Chair of the Committee on Social Affairs of the National Assembly said that the quality of labor is a big challenge for Vietnam.
According to the World Bank, the quality of human resources of Vietnam reached 3.79 points (out of 10), ranking 11th out of 12 countries surveyed in Asia. At the same time, South Korea scored 6.91 points; India 5.76 points; and Malaysia 5.59 points. Vietnam's human resources are weak at quality, lack of dynamism and creativity, and industrial working style.
Dr. Nguyen Thi Lan Huong from the Institute of Labor and Social Affairs said that Vietnam lacks of skilled workers and high-level technical workers. Of the total 53.4 million people aged 15 and older, only about 49% were trained, of them those with vocational training for 3 months upward account for only about 19%.
Dr. Bui Sy Loi said that the physical condition of Vietnam labor is less than average (in terms of height, weight and strength, toughness), failing to meet the intensity and require in the use of machinery in accordance with international standards. In addition, labor discipline is poor compared to many countries in the region.
A large part of workers are not trained in the discipline of industrial labor and not equipped with the knowledge and skills of teamwork, lack of ability of cooperation and risk bearing, being afraid to promote innovation and sharing of experience.
Loi said that labor productivity in Vietnam increased in recent years but it is still very low. The current labor productivity of Vietnam is equivalent to 1/15 of Singapore, 1/11 of Japan, 1/10 of Korea, 1/5 of Malaysia, and 2/5 of Thailand, according to a recent report by the ILO.
The major causes affecting labor productivity of Vietnam, Loi said, is the proportion of workers in the agriculture, forestry and fisheries remaining high. Labor in the agricultural sector accounted for 46.6%, but they created only 18.12% of the GDP.
Nam Son