VietNamNet Bridge – Every weekend, the wild orchid market along Thanh Thai Street in HCMC's District 10 turns bustling as a large number of customers come to look at, bargain and buy various orchid species.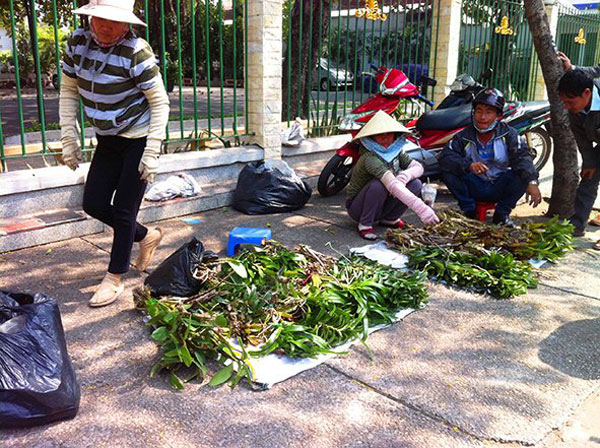 Vendors put wild orchids on sale on Thanh Thai Street in HCMC's District 10 
A retired teacher identified as Thien, who lives in the district, says he usually visits the market to look for rare orchids.
To find wild orchid plants, vendors at the market say they have to traverse far into forests, including those in Tan Bien and Tan Chau districts in Tay Ninh Province and Loc Ninh and Chon Thanh districts in Binh Phuoc Province.
Unlike cultivated orchids sold at many markets in the city, the wild orchids available at the market in District 10 have short but strong plants. That is why wild orchid flowers can stay fresh up to six months in good weather conditions and proper caring, much longer than the cultivated ones.
Wild orchids are also favored by many people as they do not occupy a lot of space in addition to small but gorgeous flowers.
Bang, a bank employee in District 3, says as his apartment is not big enough for many trees and flowers, orchids are a perfect choice.
"Simply I can put some baskets of wild orchids on the walls of my apartment for decoration," he says.
Regarding the price, a seller called Tung in Hoc Mon District says it depends on each orchid species and how long orchid branches have grown. Young orchid branches yet to blossom are sold at VND250,000 (US$11.6) per kilo.
The market is also the place for sellers and buyers to share experiences in taking care of and exchange wild orchids.
Thien says when some of his rare orchids blossom, he brings them to the market for lease to others. "By doing so, my garden has diverse orchid flowers and I have chances to learn more about how to take care of different types of orchids because orchids will never blossom if they are not taken good care of," he says.
SGT