VietNamNet Bridge – Former Party Chief of Da Nang City and Head of the Central Internal Affairs Commission, Nguyen Ba Thanh, left the US on a special flight this morning after over four months of medical treatment there.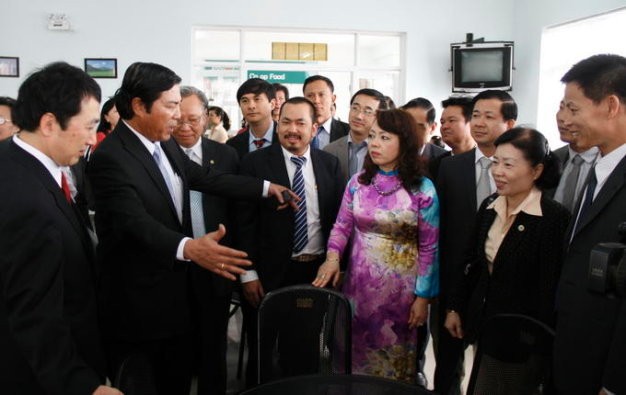 Mr. Nguyen Ba Thanh (second from the left) visits the kitchen of the Da Nang Cancer Hospital in January 2013.
A source said the plane would arrive at the Da Nang International Airport in late afternoon on January 6. Thanh will be escorted by his son Nguyen Ba Canh and American doctors.
Thanh was treated at a hospital in the US for four months and 19 days before leaving for Da Nang for continuation of treatment.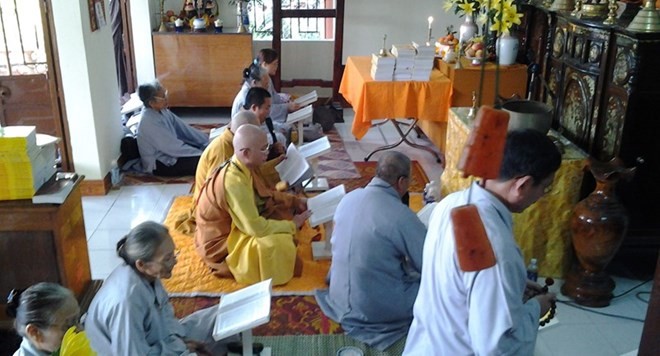 On December 31, hundreds of Da Nang people organized a ceremony praying for good health for Mr. Thanh at the Buu Son Temple.
According to Tuoi Tre Daily, Thanh will be treated at the Cancer and Tumor Ward of the Da Nang Hospital. A patient room has been renovated for Mr. Thanh.
It is anticipated that many local residents will go to the airport tomorrow to welcome Mr. Thanh. Since the morning of January 2, security at the airport has been tightened.
On December 31, Da Nang residents organized a ceremony praying for good health for Mr. Thanh at the Buu Son Temple.
Thanh was born in 1953 in Hoa Vang, Da Nang. He served as Chairman and Party Secretary of Da Nang. His statement "saying is doing" is supported, trusted by the people, who expected Thanh's positive contribution to the fight against corruption when he assumed the position of Head of the Central Home Affairs Committee in late December 2012.
Working in Hanoi, Thanh is still a member of the National Assembly delegation of Da Nang. At the 8th session of the National Assembly in October, he was absent due to medical treatment.
PV