VietNamNet Bridge - Vietnam's population reached 90,493,352 people, including 44,618,668 men (49.3%) and 45,874,684 women (50.7%), as of 0h, April 1, 2014, reported the General Statistics Office yesterday.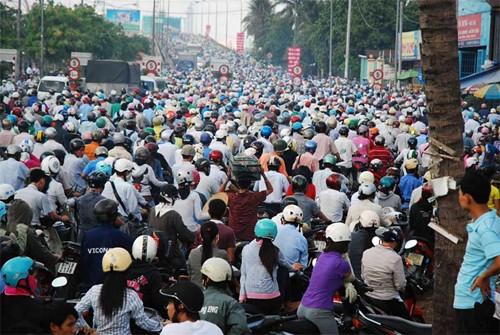 Ms. Nguyen Thi Xuan Mai, Director of the Population and Labor Census Department, said Vietnam's population increased by more than 4.6 million people over the last five years.
On average, the country's population rose by over 929,000 people annually. The average population growth rate in the 2009-2014 period was 1.06%/year, lower than that in the 1999-2009 period, which was 1.2%. However, the total fertility rate per woman was still 2.09 children.
The three most populous areas are Ho Chi Minh City (7.955 million), Hanoi (7.067 million) and Thanh Hoa province (3.491 million).
The rate of urban population increased quickly, by 33.1%, an increase of about 3.3%/year. According to the General Statistics Office, migration and urbanization has turned many rural areas into new urban areas.
In particular, the imbalance between men and women in Vietnam has increased rapidly. The ratio was 112.2 boys per 100 girls, while it was 110.5 boys per 100 girls in 2009.
Thu Ly