VietNamNet Bridge – The Ministry of Health and the Ministry of Agriculture and Rural Development have called for close supervision to detect cases of avian influenza in humans and poultry throughout the country.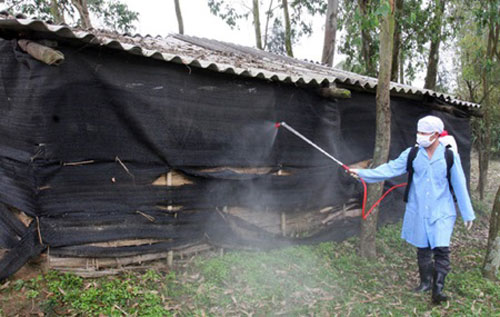 Chemicals are being sprayed to sterilise areas deemed at high risk of bird flu viruses in Nghe An Province's Nghi Loc District. Close supervision has been ordered to detect bird flu infections in humans and poultry by two ministries. 
The warning has been made following recent outbreaks of A/H5N8 in Germany, the Netherlands and the United Kingdom.
"People who have flu-like symptoms and have been in contact with poultry should visit medical facilities to be examined and treated where necessary," the Health Ministry's Preventive Medicine Department director Tran Dac Phu told Suc khoe va Doi song (Health and Life) newspaper.
The European Centre for Disease Prevention Control (ECDC) has reported that so far, no human cases of avian influenza A/H5N8 had been reported.
However, Phu said the virus could spread from poultry to humans, and high risk groups included people who had direct contact with sick poultry.
People have also been warned not to slaughter or eat sick poultry, and report such cases to local authorities.
Dam Xuan Thanh, deputy director of the Animal Health Department, also warned there was a high risk of A/H5N8 entering the country.
Thanh said the genetic structure of the A/H5N8 virus detected in the UK and the Netherlands was similar to the virus found in China, Japan and the Republic of Korea in January this year.
People, especially farmers, must be aware of the constant threat of avian influenza A/H5N8 in Viet Nam, added Thanh.
The Health Ministry has also called for stronger community awareness on the prevention of seasonal diseases during the winter and spring. People should keep warm when the weather turns cold and minimise contact with others suffering from the flu, respiratory diseases, measles, rubella and diarrhoea.
The weather during winter and spring would create favourable conditions for the development and transmission of many air-borne and hygiene-related diseases, according to the Preventive Medicine Department.
VNS/VNN