Heavy rains and high tides have flooded many areas in the south in the last few days, affecting people's lives and agriculture.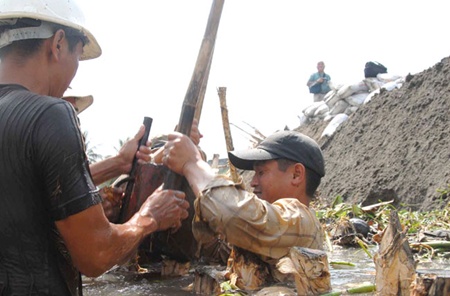 Residents of HCM City's Tam Phu Ward reinforce the banks of the Dia Canal. 
In Dong Nai Province near HCM City, heavy rains and high tides and an increase in the water released from the Tri An Reservoir between October 10 and 12 inundated many low-lying areas in the downstream area of the Dong Nai River, according to the province's Steering Committee for Flood and Storm Prevention and Control and Search and Rescue.
Vinh Cuu District's Tan Binh Commune, Long Thanh District's An Phuoc, and Nhon Trach District's Phu Dong, Dai Phuoc, and Phu Huu were the worst affected with 03.-0.6 metres of flooding damaging hundreds of hectares of rice and fruit.
Vo Van Loi, chairman of the An Phuoc Commune Farmers Association, said for the first time this year more than 50ha were inundated.
Since Saturday the tides have ebbed somewhat but remain high, according to Dong Nai's Centre for Hydro-Meteorological Forecasting.
The tide and water release from Tri An could continue to cause floods in low-lying areas in the Dong Nai's downstream areas, the centre warned.
To ensure residents' safety, the Dong Nai People's Committee has ordered affected districts to ready facilities and safe areas to move people in case of severe flooding.
In HCM City, the tide reached record levels on Friday, affecting lives in several districts like 7, 8, and Binh Thanh.
Many people living in places like An Duong Vuong Street in Districts 6 and 8 used sandbags and wooden boards to keep water out of their homes.
Nguyen Van Hai, who lives on An Duong Vuong, said: "Houses here are inundated and furniture is damaged because they are wet."
In the Cuu Long (Mekong) Delta, high tides and heavy rains in combination with the annual floods in the Mekong have flooded many rice fields, homes, and roads.
In Bac Lieu Province, at least 3,800ha of rice, mostly in Phuoc Long and Vinh Loi districts, have been flooded, according to initial estimates by the province Department of Agriculture and Rural Development.
In Vinh Loi District's Vinh Hung Commune alone 200ha were inundated, with 70 per cent being destroyed totally.
Between October 9 and 12 floodwaters flowed over or eroded more than 40 embankments and dams in Vinh Long Province, according to the local Steering Committee for Flood and Storm Prevention and Control and Search and Rescue.
More than 1,240 houses and other construction works and 200ha of fruits and vegetables in Vinh Long have been inundated following high tides.
In Soc Trang Province's Cu Lao Dung District, floods broke 259 metres of dykes in 75 places and flowed over five sections with a total length of 2.5km on October 9-11, flooding 135 houses, 691ha of sugarcane and 13ha of vegetables.
In Long Xuyen city in An Giang Province, though there were no rains, high tides flooded many streets and residential areas, affecting travellers and locals.
In Can Tho City, many residential areas along the Tra Noc, Binh Thuy and Can Tho rivers and Cam Canal were severely inundated last Sunday.
Over the past week farmers in Can Tho harvested more than 14,000ha to save their autumn-winter rice crop from the floods.
Pham Van Quynh, director of the city's Department of Agriculture and Rural Development, said the city had actively planned to limit the adverse impacts of floods on the autumn-winter rice crop.
So far 58,500ha or 93 per cent of the total area under rice has been harvested.
The city now expects to harvest 322,000 tonnes, 67,000 tonnes more than the original target and a record high.
It has improved flood control works including the consolidation of dykes in Vinh Thanh, Co Do, Thoi Lai, Phong Dien, O Mon, and Thot Not districts.
The floods caused by the rising water levels in the Mekong will continue to worsen in the coming days, the city's Centre for Hydro-Meteorological Forecasting has warned.
More weather stations for HCM City
The HCM City People's Committee has approved financial support for the Southern Centre for Hydro-Meteorological Forecasting for building eight more hydro-meteorological stations in the city.
The three meteorological stations, three rainfall measurement stations, and two water level measurement stations are part of a programme to control and respond to floods, storms, and other disasters.
The people's committee has also instructed the Steering Committee for Flood and Storm Prevention and Control and Search and Rescue to give priority for automating the Phu An Hydrology Station on the Sai Gon River to forecast high tides.
VNS/VNN