Alleged rhino horn syndicate boss awaits trial behind bars
The alleged head of an illegal syndicate believed to acquire rhino horns for the Vietnamese black market has been remanded in custody in South Africa.
Alleged rhino poaching kingpin, Hugo Ras, along with nine other alleged syndicate members face a total of 318 charges for killing rhinos and selling rhino horns.
The 10 were arrested in a nationwide sting on Friday September 19.
The spokesman for the anti-rhino horn taskforce responsible for the arrests, the Hawks, Captain Paul Ramaloko, said the syndicate was responsible for the "serial killing" of rhinos.
The arrests followed a year-long investigation led by the Hawks.
The charges include various common law offences such as theft, fraud, malicious injury to property as well as statutory offences including racketeering, money laundering, conspiracy, incitement to commit crime, killing and dehorning of rhino, illegal possession and sales of rhino horns and illegal possession of firearms among others.
A week before the arrests were made, South African National Parks (SAN Parks) welcomed a delegation of Vietnamese celebrities, journalists and business people to Kruger National Park for three days.
One of the visiting celebrities, Hong Nhung said, "At Kruger National Park, we had the opportunity to witness the most horrific scene: a bloated dead rhino that had been slaughtered by poachers, its horn hacked off and its body left to rot in the bush."
SAN Parks spokesman Reynold Thakhuli said he hoped the visit would help to debunk some of the myths about rhino horn in Vietnam.
"We want these celebrities to have a first-hand experience of the cruelty that these African giants are subjected to, and to use their influence to discourage the demand in their home country," said Thakhuli.
Ras and five other alleged syndicate members will appear in court again on October 8 for their bail applications to be heard.
HCMC leaders determined to control floods in inner-city area
HCMC leaders have discussed drastic solutions to deal with floods and set a target to eliminate all flooding sites in the inner-city area of around 100 square kilometers by the end of next year.
Speaking at the closing session of the 19th session of the HCMC Party Committee Tuesday, Secretary Le Thanh Hai said flood control is one of six major programs of the city.
Hai said climate change has led to unpredictable heavy rain and high tides here in the city. Therefore, the city is preparing urgent anti-flooding solutions to ease the situation, including construction of dykes, tide sluices and regulation reservoirs.
Nguyen Ngoc Cong, deputy director of the Steering Center for Urban Flood Control Program, told the Daily on the sidelines of the meeting that many important works should be deployed to secure a free-flooding inner-city area of around 108 kilometers.
If rainfall is 80 millimeters or less, the area may not be flooded anymore until the end of next year. However, the city should mull additional solutions such as building dykes, tide sluices and pumps if downpours coincide high tides.
Cong said it is necessary to build a dyke section from Nhieu Loc-Thi Nghe Canal to Tan Thuan and Muong Chuoi Canal along with four large-scale tide sluices. These works are estimated to cost over VND2.5 trillion.
According to the local flood prevention center, there are still some flood-prone areas in the city's outlying districts 9, 12, Go Vap and Binh Tan. Flood recurrence has been reported in other 22 spots since early this year, and long-delayed projects and heavy rain are the main causes.
Hai acknowledged that the local government has yet to take drastic actions against foot-dragging projects in the city.
Earlier, the city considered reviewing and revoking licenses of 1,200 foot-dragging projects as a measure to deal with prolonged flooding in the city but has done with only around 550 projects. Hai stressed the city will take bold steps against these projects towards the end of this year.
Figures released at a session of the HCMC People's Council in July showed the city had revoked or invalidated approvals of nearly 540 slow projects causing adverse impacts on locals. These projects occupied more than 5,300 hectares of land.
Many deputies at the session expressed concerns over the long-delayed projects as investors had yet to give proper compensation to residents.
Work to start on German House this month
Construction will commence on the German House in the upcoming weeks to accommodate various German organizations in HCMC, including the German Consulate General and the German Industry and Commerce, said the German consul general in HCMC.
Hans-Dieter Stell revealed this project at a meeting on October 1 with local media to announce activities due to take place later this year and in 2015 to celebrate 40 years of diplomatic relations between Germany and Vietnam.
The diplomat said the 25-storey building located at 33 Le Duan Boulevard covering an area of 28,000 square meters will be invested with US$80 million by the German government and investors.
As scheduled, the German House will be completed in the third quarter of 2017, and will also accommodate Goethe Institute, enterprises and organizations. Other facilities include restaurants, an outdoor leisure center, swimming pool, four parking lots.
Half of this building's floor space will be reserved for enterprises, especially German businesses in Vietnam.
The land lot at the intersection of Le Duan and Le Van Huu streets was formally handed over to the German Embassy for use in 99 years starting from October 10, 2011 with the symbolic rent of one Vietnamese dong.
At the press conference, the German consul general also mentioned the expansion of German-Vietnam University in Binh Duong Province and updated the progress of the Metro Line No.2 construction project.
In the rest of this year, the German consulate general in HCMC will organize educational and cultural activities, including the German National Day on October 3, Oktoberfest on October 10-18, Beethoven and Brahms Symphony on October 19 and so on.
In 2015, Goethe Institute will hold cultural exchange programs to celebrate 40 years of diplomatic relations between the two countries, remarkably a concert performed by German and Vietnamese artists in March and lacquer exhibition on steel and wood in April. Besides, there will be a German Film Festival in September, electronic music performance on German classic films and Rock-Pop Stabil Elite tour for students in November.
Fires claim 55 lives in nine months
More than 1,550 fires occurred nationwide during nine months from November, 2013 to August, 2014, killing 55 people and injuring 119 others.
Property losses from the fires were estimated at 921.8 trillion VND (42,900 billion USD), according to the Fire Prevention, Fighting and Rescue Police Department.
Firefighters inspected nearly 129,460 establishments and provided information and knowledge on fire prevention and fighting for people. Over 18,230 firefighters directly participated in extinguishing 1,162 fires with 2,814 fire engines involved, the department said.
In same period last year, the country recorded 1,920 fires, claiming 32 lives and leaving 99 injured.
Son La seizes largest heroin haul
Police in the northern mountainous province of Son La arrested a four-member drug gang armed with a gun and a grenade on October 1, confiscating 161 heroin cakes in Vietnam's largest illegal drug haul so far.
Police officers also impounded more than 2,300 USD in cash, two cars and eight cell phones.
Since late September, the provincial police has arrested 10 drug dealers, seizing a total of 210 heroin cakes, 20,000 methamphetamine tablets and 10 guns.
Vietnam upholds some of the world's toughest anti-drug laws. The possession of more than 600g of heroin or more than 20kg of opium is punishable by death.-
One dead and 2 unaccounted for after fishing boat explodes
A commercial fishing boat exploded and sank off of Con Dao island on October 2 leaving one dead and two missing, according to the Ly Son district island's People's Committee of the central coastal province of Quang Ngai.
Vo Van Tam-the captain of the 5-member fishing boat, who lived in An Vinh commune, Ly Son district was reportedly killed instantly while two other fishermen remain missing and one is in hospital in serious condition.
When the incident occurred, a nearby fishing boat rescued two other fishermen.
Ly Son district's People's Committee Vice Chairwoman in Quang Ngai Province said the district has asked local authorities to work hand in hand to further investigate the case.  At present, relevant agencies in Con Son island, Ba Ria Vung Tau province have mobilized forces to search for the two missing fishermen.
Traffic accident in Dak Lak kills two, injuries 11
A crash between a coach and a motorbike on a national highway in Dak Lak caused two deaths and 11 injuries on October 1.
The accident occurred at around 4:30pm on a section of National Highway 14 running through Ea H'leo District, a 16-seat passenger car crashed into a motorbike going the opposite direction while trying to pass another car.
The driver of the car was Tran The Nam of Buon Ma Thuot City and the driver of the motorbike was Vo Trung Truc from Dak Lak Province. Truc's wife Bui Thi Hanh was also on the motorbike at the time.
Truc and his wife died on impact, and the car overturned, injuring 11 people, five seriously. The victims are being treatmed at Dak Lak General Hospital.
Vietnam aims to reduce yearly poverty rate by 1.5 percent
The rate of households living under the poverty line in Vietnam is expected to remain below five percent in 2015 and fall by about 1.5 percent annually until 2020.
Speaking at a seminar on poverty reduction in the southern region, Do Manh Hung, Deputy Chairman of the National Assembly's Committee on Social Affairs, said the rate of poor districts would fall below 30 percent and the rate of poverty relapse would continue to drop.
Vietnam had made drastic achievements in poverty reduction during the past decades, he told the seminar participants.
Hung said the poverty rate had fallen to 9.45 percent in 2010 from 22 percent in 2005.
In 2005, there were six regions with a poverty rate above 20 percent, and in 2010, there were four. The following year, the northeastern and northwestern regions recorded a 20 percent poverty rate.
Assistance in providing jobs and healthcare services has been part of Vietnam's poverty-reduction achievements.
Between 2006 and 2010, more than 150,000 workers received free vocational training courses and 60 percent of them were able to find a job or become self-employed.
Between 2010 and 2012, an additional 1.1 million workers were provided vocational training courses. Of that number, 11 percent were living under the poverty line and 5 per cent were near-poor.
According to a report from Ministry of Labour, Invalids and Social Affairs, 468 vocational training centres have been built in 51 provinces where several ethnic minorities live.
HCM City intensifies education for disabled kids
The Ho Chi Minh City Department of Education and Training held a meeting on October 2 to launch special education tasks for the 2014-2015 academic year, with more support to be given to children with disabilities and development disorders.
Nguyen Thanh Tam, Director of the city's rehabilitation and education centre for children with disabilities, said a number of activities have been undertaken to integrate the group into the community over the past years.
The centre has coordinated with hospitals to send doctors to local nurseries in order to detect children with special needs, while schools of special education have organised refresher courses to improve the capacity of their teaching staff, he added.
However, representatives of some special schools said they are not well connected with authorised agencies in giving early detections and diagnoses of disabilities, and current facilities are insufficient and unsuitable for special education.
Additionally, textbooks designed for primary students with disabilities have not yet been issued, causing many difficulties for the teaching, the meeting heard.
Nguyen Tien Dat, Deputy Director of the municipal Department of Education and Training, said the sector will increase support for the target children by applying different therapies and giving professional training to teachers and education officials.
It will build more special schools and equip existing ones with appropriate facilities, he added.
Khanh Hoa vows to implement WB-funded environmental programme
The central coastal province of Khanh Hoa pledged to ensure the effective operation of its new environmental facilities, which are currently still under construction with support from the World Bank, Vice Chairman of the provincial People's Committee Le Duc Vinh said.
Vinh attended a meeting on October 2 with a delegation from the bank on the implementation of the WB-funded Coastal Cities Environment and Sanitation programme, which is running a project in Nha Trang City.
According to the delegation, the project is 96 percent complete, with US$72.3 million out of the total US$93.6 million disbursed so far.
The project in Nha Trang City has been carried out since 2007 and ends in October. Funds were used to construct a wastewater treatment plant, a landfill site, sewer systems and pump stations.
Germany's unification day marked in HCM City
A ceremony to mark the 24th Unification Day of Germany (October 3) took place in Ho Chi Minh City on October 2, hearing hopes for bolstering multifaceted links between the two sides in the future.
Nguyen Huu Thien, Chairman of the Vietnam-Germany Friendship Association's HCM City chapter shared his joy at progress made in effective cooperation between the two countries, which was further promoted through maintaining the mutual exchange of all-level visits and meetings.
He noted that the relationship between the city and German localities has seen remarkable advances in many fields.
The launch of the HCM City-Frankfurt direct air route since 2005 along with strong political commitments of the two governments contributed to boost trade cooperation between the city and German partners, he affirmed.
Germany is one of HCM City's key markets for promoting trade and investment.
About 70 German-invested projects worth US$173 million currently operating in HCM City – Vietnam's largest economic hub, including the Metro No. 2 and the German House, showed the two nations' growing ties.
Speaking at the event, German Consul General in HCM City Hans-Dieter Stell underlined the two countries' increasing friendship, saying that the elevation of the bilateral relations to a strategic partnership helped strengthen future cooperation and solidarity between Germany and Vietnam.
A series of activities scheduled for 2015 towards the 40th anniversary of Germany-Vietnam diplomatic ties would contribute to further fostering the all-around relations, he added.
Vietnam-UK Research Institute makes debut in Da Nang
The British Council in collaboration with Aston University of the UK and the University of Da Nang held a ceremony in the central city of Da Nang on October 2 to launch the Vietnam-UK Institute for Research and Executive Education.
The institute, based at the University of Da Nang, will become operational in the 2014-2015 academic year and recruit students for the 2015-2016 year.
It will include the UK-ASEAN Research Centre which is designed to develop scientists' research capacity in the fields of electronics-telecom, bio-technology, and finance-banking.
The centre will also serve as a venue for the UK and Vietnam as well as other ASEAN nations to exchange research results and boost cooperation in the field.
Speaking at the ceremony, Deputy Minister of Education and Training Bui Van Ga said the institute is considered an international higher education and scientific research facility in the central region, paving the way for the establishment of the Vietnam-UK International University in the future.
UK Ambassador to Vietnam Giles Lever spoke highly of the birth of the institute, saying it is an important step forward in the strategic partnership between the two countries.
The UK pledged to continue its efforts to enhance cooperation with Vietnam's Ministry of Education and Training, he said.
On this occasion, Tate and Lyle Plc, a UK-based multinational agribusiness firm, committed to granting scholarships worth 210,000 USD to outstanding students from disadvantaged areas to help them pursue education at the Vietnam-UK International University.
Japan presses charges against executives in Vietnam graft scandal
JTC former President Tamio Kakinuma and other key executives admitted to the charge of bribing officials in several countries, including Vietnam.
Japanese prosecutors on Oct. 1 opened court against Tamio Kakinuma, 65 - the former president of Japan Transportation Consultants (JTC) Inc., Tatsuro Wada, 67 – former transport consultant, and Koji Ikeda, 58, who were charged with providing tens of millions of Yen to officials to win contracts funded by Japanese official development assistance (ODA), according to Japan's Kyodo News.
Kyodo News reported the three defendants had paid around 70 million Yen in kickbacks to three senior officials in Vietnam's railway sector from 2009 to 2014. They also handed 20 million Yen to five officials of Indonesia's Transport Ministry from 2010 -2013, and 54 million Yen to three officials of Uzbekistan's state-run railway firm from 2012 - 2013.
Japanese tax authorities unveiled the scandal in April 2013 and ordered JTC to pay 103 million Yen in back taxes.
Japan's 1993 unfair competition prevention law bans providing money or other benefits to foreign public servants, with penalties of imprisonment for up to five years and a fine of up to 5 million Yen.
Vietnam, Saudi Arabia boost labour cooperation
An agreement on labour cooperation has been signed between Nguyen Thanh Hoa, Deputy Minister of Labour, Invalids and Social Affairs and his Saudi Arabian counterpart Ahmed Al-Fahaid in the capital city of Riyadh.
The agreement was reached during Hoa's official visit to Saudi Arabia from September 21-24.
The agreement aims to improve Vietnamese labourers working conditions and incomes in Saudi Arabia.
During their stay, a seminar on labour cooperation between Vietnamese labour export enterprises and Saudi Arabian partners was also held.
Russia, Vietnam foster communications cooperation
The Russian Government has approved a new draft agreement on information technology and mass communications cooperation with Vietnam.
The Russian Ministry of Communications and Mass Media (MCMM) issued its stamp of approval after reaching final agreement with the Ministry of Foreign Affairs and the Federal Security Service (FSB) on a few snags holding up the deal.
The MCMM will sign the deal after reaching agreement with Vietnam.
The new agreement is expected to broadly bolster cooperation in communication, IT and mass media between the two nations and have far reaching positive effects on radio and television programming.
Among its many provisions, Vietnam and Russia will more regularly exchange radio and television programming and share state-of-the-art satellite technologies.
It will be valid in five years, replacing the existing agreement, which has been in effect since September 15, 1994.
Thousands hit by water supply cuts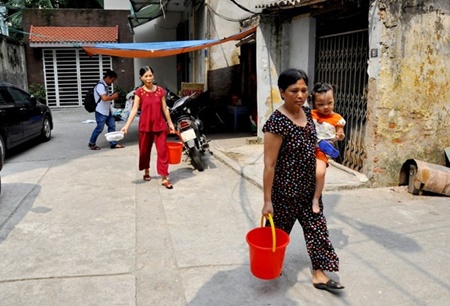 Over a thousand local residents are undergoing this nightmare shortage of water without explanations or announcements. — Photo baomoi
Residents of Ha Dong's Mo Lao commune have spent twenty days without fresh water.
"Over a thousand local residents are undergoing this nightmare shortage of water without explanations or announcements," said Dao Thi Suu, Mo Lao's Head of Street Population Group/Residential Block 12.
Suu said she had made more than ten calls to Nam Tu Liem district's Thong Nhat Co-operative and was given weak responses.
Deputy director of the co-operative Le The Hung explained that three requests had been sent to water supplier VIWACO, but the company "had no solutions yet."
VIWACO director Nguyen Anh Viet blamed the problematic water pipe, which had previously broken.
Some 150 children in the block were under five and badly needed water, said local resident Nguyen Thi Tinh. Adults were sending children to relatives' homes for fresh water and avoided using reserved water by taking showers at their offices and using muddy water to clean toilets.
Neighbour Vu Van Huy said he had gotten used to staying up from 11pm to 5am to pump fresh water from the houses at the start of the water pipe.
Wells built ten years ago, before fresh water was delivered to the area, were also being used as a temporary solution, said Le Van Tuyen, a third local. While the wells were primitively structured with two filtering layers that could not ensure water hygiene, his family and others had to use water from the wells for their daily living activities since they had no other choice.
Ha Noi sees surge in child patients
As summer shifts into autumn, the number of children with respiratory diseases, pneumonia and bronchitis is increasing, said Nguyen Tien Dung, head of Bach Mai Hospital's Paediatrics Ward.
About 300 children have had health checks at the ward every day during the past month, most of whom had respiratory diseases. The ward saw nearly 140 patients on Wednesday, whereas in other seasons there were only about 90. Many children came down with the diseases again and again, Dung said, warning that the situation could last until the end of the month.
In the National Paediatrics Hospital, 2,500-3,000 children per day had health checks since late August, an increase of 20-30 per cent.
The cool autumn nights increased the amount of bacteria in the air while decreasing children's resistance to them, said Dung.
Nguyen Thanh Nam, deputy head of the Paediatrics Ward at the Bach Mai Hospital, said that parents should keep their children warm at night, in addition to preventing the spread of disease by ensuring that children always washed their hands with soap.
Pre-Tet crackdown ordered on smuggling
Deputy Prime Minister Nguyen Xuan Phuc has asked the Ministry of Industry and Trade and localities to launch a campaign to fight smuggling and trade fraud before the Tet (Lunar New Year) festival next February.
Phuc, who doubles as head of the National Steering Committee on Anti-Smuggling, Counterfeit Goods and Trade Fraud, said more inspections should be made to prevent smuggling goods crossing the border, particularly tobacco, fertiliser and helmets.
He said local authorities should work closely with other forces to crack down on smuggling rings operating en routes from northern border provinces to Ha Noi and south-western border provinces to HCM City.
He told them to raise public awareness about carrying or buying smuggled, copied or cheap products.
Leaders of localities where smuggling, trade fraud and fake products were common must take responsibility and punish those guilty, he said.
In the past eight months of this year, market watch forces nationwide handled nearly 64,000 cases of smuggling, trade fraud and fake products.
Fines for the offences reached a total of VND188 billion (US$9 million).
Major expansion for new school model
The Viet Nam Escuela Nueva Project, a school model in which teachers serve as facilitators and parents and other community members are more involved, is being expanded to 600 more primary schools around the country this year, a senior education official, said.
The model was applied at 1,747 primary schools during the last school year.
It creates opportunities for students to conduct their own learning activities with teachers' support, Assoc Prof Pham Quang Hung, acting director general of Ministry of Education and Training's International Cooperation Department, told a Southeast Asian education forum last Saturday.
Students manage their classes through self-management councils and are encouraged to express their viewpoints and differences.
Moreover, they are expected to learn independently, perform self-management activities and self-assessment, and are inspired to reach their full potential and acquire necessary capacities and qualities.
Every student in a class is required to play a certain role in carrying out the council's tasks ranging from making plans to putting them into action, Hung said.
Individuals take the initiative in researching, experiencing, and exploring before sharing their knowledge in pairs and teams.
Hung said the model aims to "learn to know; learn to do; learn to live in harmony; and learn to survive."
"It is very important that the model develops 21st century skills for students including learning independently and self-managing; critical thinking and problem solving; communicating and co-operating; and using language and doing calculations."
The forum also heard about experiences related to improving education and skills of students in other countries in Southeast Asia.
The Educational Forum on Innovations in Teaching Life-Skills and 21st Century Skills at Basic Education: Best Practices from Different Countries in the Southeast Asian Region is held by the Southeast Asian Ministers of Education Organisation's Regional Training Centre.
Miner told to pay up for mud spill
The People's Committee in northern Yen Bai Province have told the Tay Bac Mineral and Investment Joint Stock Company to suspend operations after a dam holding mud broke on Tuesday, swamping two villages.
The company was also told to use all its workers to help clean-up the mess.
More than 5,000 cubic metres of mud swamped Doan Ket and Luong Thien villagers and destroyed much of the rice crop.
The committee also asked authorised agencies to assess the damage and compensate local residents.
Court turns down dairy firm lawsuit
Ha Noi People's Court has rejected an attempt by an importer of goat-milk products to sue the city's Market Watch Department for issuing instructions that it claimed had affected the company's prestige and caused it to lose money.
In July 2013, the company decided to sue the Market Watch Department for illegally fining the company and providing incorrect information about the quality of the milk product.
The company also sued the department for not preserving milk products its officers had seized. According to the company, the products were spoiled after being kept in improper preservation conditions for four months.
The company estimated its total losses at VND26 billion (US$1.2 million).
According to the company, on February, 2013, Market Watch Division No 12 seized 6,000 Danlait milk boxes for testing following suspicions expressed on online forums that it had made food supplements abroad and sold them at high prices as baby formula in Viet Nam.
The company asked the department to pay it VND1.25 billion ($59,000) for 5,200 boxes of milk product that had been seized.
Judge Nguyen Thi Thu Hang told the court that it was legal for Market Watch to fine the Manh Cam company for mislabeling Danlait goat milk products as baby formula instead of a food supplement.
She also said that the company took back the 5,200 milk boxes from May, 2013, so it was not the responsibility of the Market Watch Department if the company could not sell the products.
The Viet Nam Food Administration said that the products met quality standards as a food supplement and that this had been certified by the health ministries of both Viet Nam and France.
50,000 needy households in Hanoi to receive digital TV receivers
About 50,000 people living in poverty or near poverty in Hanoi will be provided with digital TV receivers by the Audio Visual Global Company (AVG) in an effort to help the households when the city stops using analogue technology on December 31, 2016.
The AVG, in co-ordination with the Hanoi Department of Information and Communications, organised a ceremony on October 2 to present the first 30 digital receivers to families in Cau Giay district.
According to Deputy Chairman of the Board of Directors of the AVG, Tran Dang Tuan, the digital receivers will be donated to needy people with free roaming and subscription, providing them with70 digital channels.
Vietnam will have access to digital television by 2020 under a programme recently approved by Prime Minister Nguyen Tan Dung.
Under the digital-television transition project, all households will have access to digital TV under different forms by 2020. Terrestrial digital television will account for 45%.
VNN/VNA/VNS/VOV/SGT/SGGP/ND