VietNamNet Bridge – Can Tho City and seven provinces in the Cuu Long (Mekong) Delta have been speeding up construction of flood-proof residential clusters and moving people from flood-prone areas into them.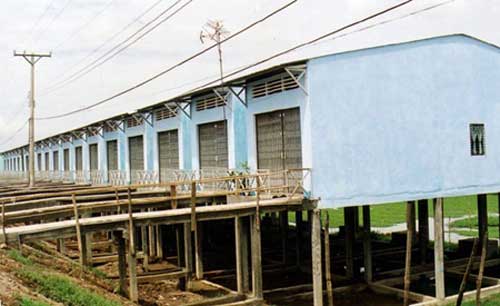 Construction of flood-proof residential clusters in the Mekong Delta province of An Giang's Chau Doc Township has been accelerated so that people can reallocate. 
Long An, Dong Thap, An Giang, Kien Giang, Tien Giang, Vinh Long, and Hau Giang provinces and Can Tho are set to complete the central programme's second phase by the end of this year.
The phase, which will see 178 clusters built to relocate more than 57,000 families, was scheduled to finish last year but was delayed after none met the original deadline.
Most of the clusters have been seen infrastructure like roads, electricity, water supply, and sewage systems completed and house foundations built.
Vo Anh Kiet, deputy chairman of the An Giang Province People's Committee, said the province has built 40 of the 42 clusters to be finished in the second phase and moved nearly 8,000 families into them.
Dang Khai Hoang, head of the An Giang Department of Construction's real estate market and house management division, said the programme has helped prevent casualties and enabled students to continue studying during flooding.
Poor people in flood-prone areas benefit most from it, he said.
Dang Phuong Hai, whose family has moved to a flood-proof cluster in Phu Tan District's Phu Hoa Hamlet, said: "My family no longer worries about our house being flooded and there is transport here.
"My wife and I now sell goods at the district market and have a stable income."
However, many families in An Giang are reluctant to move into the clusters because they earn a living from fishing in rivers, canals, and paddy fields near home, local authorities said.
Besides, many poor people cannot build a house in the clusters with the VND20 million (US$950) loan provided to them and so have not moved in, they added.
The An Giang People's Committee has instructed local authorities to persuade families living in erosion- and flood-prone areas to move into the clusters.
In Long An, 90 per cent of infrastructure has been finished, but only 6,628 families, or 50 per cent of the provincial population, have moved in.
Pham Van Khoa, head of Moc Hoa District Economic Affairs Bureau in Long An Province, said the district is situated in a low-lying area and more than 90 per cent of houses here were inundated during the historic floods of 2000.
But since the floods have not been bad in recent years families not affected refuse to relocate, he said.
Delta provinces are not hopeful that the second phase will be finished on schedule because thousands of families have yet to build houses in the clusters.
In Hau Giang, for instance, while more than 3,400 families are to move in, only around 2,200 have done so, according to the local Department of Construction.
It is difficult to complete the second phase by the end of this year, the department said.
In Dong Thap, authorities are encouraging families who have received land lots in clusters to build houses soon, warning them that after the programme ends, they will not get soft loans for the construction.
Dong Thap has provided vocational training for relocated people and worked with businesses to find jobs for them.
The programme's first phase in 2001-07 saw 1,043 flood-proof clusters built to accommodate 200,000 families.
VNS/VNN