VietNamNet Bridge – The Department of Food Safety, Ministry of Health said they had not found carcinogens like acrylamide and PAHs in samples of snacks and KFC potato chips collected in Hanoi.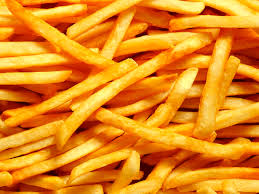 The Food Safety Department said the test was conducted by the Institute for Testing of Food Safety and Hygiene. The samples were taken from Nguyen Cao Market, Ba Trieu and Lo Duc streets.
The test was conducted after the Health Ministry received a warning from the European Food Safety Agency (EFSA) on the discovery of a carcinogen called acrylamide which was found in snacks, coffee, potato chips, burnt toast, crisps and some fast food for kids.
The EFSA also proposed to governments to establish new legal frameworks to control the food industry, in an attempt to reduce the amount of chemicals causing cancer in the products sold in supermarkets and restaurants.
Earlier, the Daily Mail quoted Dr. Diane Benford, an EFSA official who investigated acrylamide, as saying that acrylamide enters the body orally and is absorbed from the stomach system and then distributed to all the internal organs and is metabolized widely.
Glycidamide, one of the major metabolites of this process, is likely to cause mutagenic and tumor formation and it is clearly observed in the study in animals.
A study published by the UK Food Standards Agency (FSA) in 2013 also showed that the increase of concentrations of carcinogens was found in KFC fried potatoes, crisps, ginger biscuits and even instant cereal.
Acrylamide is produced naturally when foods derived from starch are fried at high temperatures (170-180 degrees C) such as potato chips, snacks, coffee, crisps, toast and others.
Since 2010, the United Nations Food and Agriculture Organization and the EFSA mentioned acrylamide as a concern for human health. However, to date there is not sufficient evidence of levels of acrylamide in foods that are toxic to consumers and no scientific evidence about the content, mechanisms of acrylamide causing cancer in humans. The results of experimental studies on animals showed that it is capable of causing cancer in animals.
To minimize the risk of developing acrylamide in fried and baked products, the Department recommends food processing businesses and households peel, slice and soak potatoes in clean water for at least 30 minutes before frying. It also said that businesses should refrain from frying and baking food again and again, and should not use used oil or process foods with sugars and starch at high temperatures for a long time.
Le Ha