VietNamNet Bridge – When the FIFA World Cup 2014 opened, illegal betting has mushroomed. Coffee shops and foreign betting websites are the "business centers" for gamblers.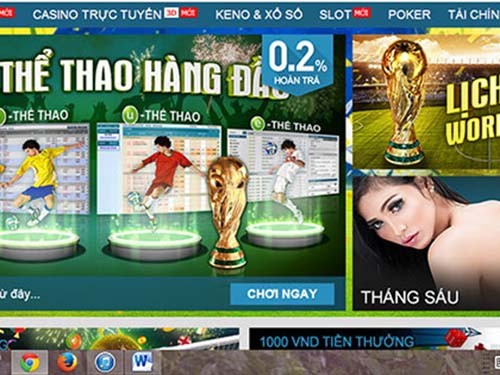 A betting website.
Vietnamese police have sent warnings to big betting websites in Asia and the world that they would detect and punish online betting of Vietnamese citizens.
However,  Vietnamese gamblers are not afraid of such threats. They publically placed bets even before the opening of the World Cup 2014.
To learn about online betting services in Vietnam, the writer registered for membership on many betting websites in Vietnamese language as B., W., 12B ...
These websites are run by leading and most prestigious "bankers" in Asia. Websites launched promotions for Vietnamese gamblers during the World Cup.
These websites' chat rooms operate 24/7 and all questions are answered immediately in Vietnamese. If one registers for membership, they will receive a phone call just 30 minutes later, with detailed information on how to charge their account and how to bet. The gambler can transfer money to an account or give money directly to the banker's representative. The gamblers will be granted a bonus if they introduce a member.
Online betting "safe"?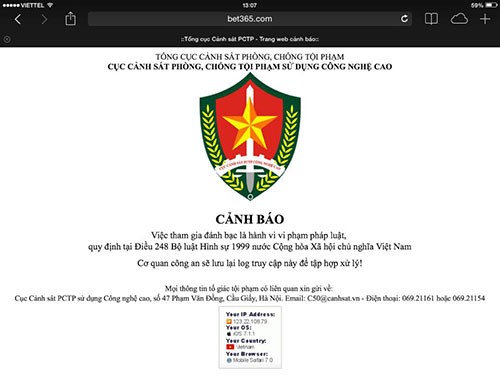 The warning of police on a betting website.
When this reporter visited a cafe on Truong Son Road (District 10, Ho Chi Minh City) that is the venue of football fans, the writer saw many gamblers discussing the results of the opening game between Brazil and Croatia. Most of them used a laptop or simply a smartphone to surf the Internet to update betting information.
Phan Thanh Tuan, a famous gambler in District 10, said that it is very safe to bet online because it is very difficult for the police to find evidence. Tuan added that with online betting, gamblers don't have to worry about bilking or paying commission in case of winning bets.
According to Tuan, five to six years ago, when betting websites appeared in Vietnam, it was very difficult for Vietnamese to register memberships so they needed "intermediaries". Nowadays, these websites have been "Vietnamized" to serve local gamblers.
In fact, the police can track information of gamblers because the players have to register their personal information with the "banker". However, one can see gamblers boasting their "betting victories" on social networks.
After several initial games with unexpected results, many gamblers lose all of their money.
On June 15, a 22-year-old man in Huong Tra town, Thua Thien-Hue province, committed suicide after losing a bet.
Le Ha